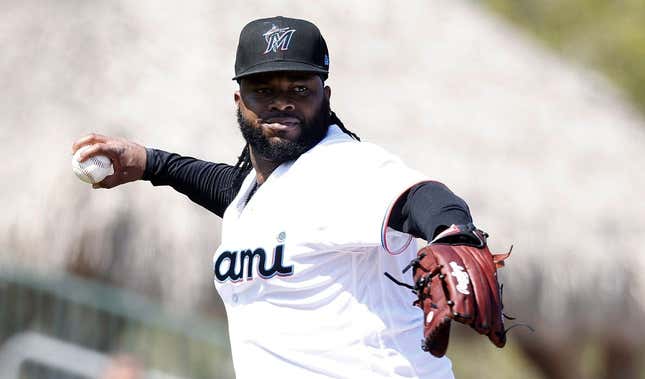 Miami Marlins second baseman Luis Arraez and Minnesota Twins pitcher Pablo Lopez -- traded for each other in January -- will be in the same stadium Monday night in Miami, and both are key players
Will South Beach Flu give the Heat home court advantage? | Keep it a Buck(et)
Arraez, a 25-year-old lefty swinger, won the American League batting title a season ago. He is Miami's leadoff batter.
Lopez (1-0, 0.00 ERA), a 27-year-old right-hander, was impressive in his Minnesota debut, although he is not scheduled to face Miami until Wednesday.
Both are natives of Venezuela.
The Marlins, who will be opening a three-game series against the visiting Twins on Monday after dropping three of four to the New York Mets, are thrilled with Arraez, who is hitting .563 in four games. The rest of the Marlins are batting just .180
Lopez said he is aware of what the Twins gave up in the deal, including Arraez and standout shortstop prospect Jose Salas
"The Twins have put a lot of faith in me, and I'm going to make the most of it," said Lopez, who broke into the majors with the Marlins in 2018 after originally signing with Seattle
Arraez, meanwhile, spent nearly a decade with the Twins as Minnesota signed him as a 16-year-old in November 2013
Arraez became a first-time All-Star last season, but he has never stopped hitting. In nine professional seasons, he has never hit below .294.
In the majors, he is a career .317 hitter.
Arraez was signed as a shortstop. Since then, he has played left field, third base, second base and first base.
With the Marlins, Arraez has played second base exclusively
"It's my natural position," Arraez said. "I love to work, and now I get to play second base every day."
Monday's pitching matchup will feature two right-handers: Johnny Cueto and Tyler Mahle.
Cueto, 37, is set to make his Marlins debut. The veteran right-hander is on his fifth team, although he spent 7 1/2 years with the Cincinnati Reds and six with the San Francisco Giants
In seven career starts against the Twins, Cueto is 5-1 with a 2.62 ERA
However, he hasn't fared all that well on Miami's mound, going 1-2 with a 6.33 ERA in four career starts.
Mahle, 28, will also be making his 2023 debut. He had a career year in '21, going 13-6 with a 3.75 ERA for the Reds. His split-finger fastball really took off that season.
Last season, however, he slipped to 6-8 with a 4.40 ERA. He had some shoulder issues, making 10 fewer starts than in 2021.
For his career, he is 0-2 with a 3.00 ERA in three starts against the Marlins. He has pitched just once in Miami (0-1, 2.57 ERA)
The Twins, who completed a three-game sweep of the host Kansas City Royals with a 7-4 win Sunday, are led offensively by Carlos Correa, Byron Buxton and Joey Gallo. Gallo hammered two homers Sunday
--Field Level Media