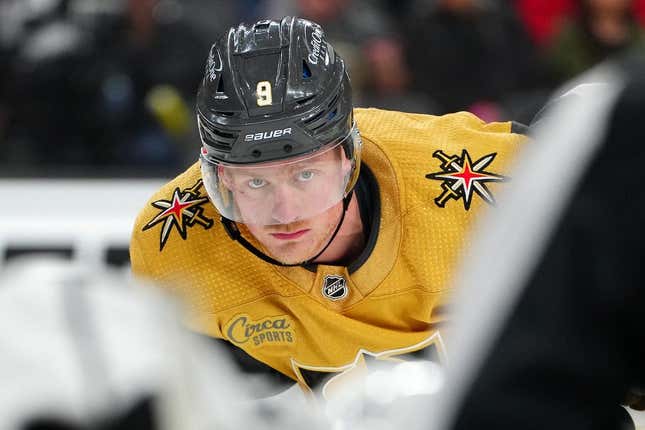 Vegas Golden Knights owner Bill Foley raised more than a few eyebrows when he famously predicted "playoffs in three and Cup in six" for his then-expansion franchise back in 2017
In their first season, of course, the Golden Knights made it all the way to the Stanley Cup Final, where they lost in five games to the Alex Ovechkin-led Washington Capitals
Now in season No. 6, Vegas heads into Tuesday night's first-round opener against the Winnipeg Jets in Las Vegas still searching for its first Stanley Cup parade
The Golden Knights, who missed the playoffs for the first time in an injury-plagued 2021-22 season, bounced back this season to win their third Pacific Division title with a Western Conference-best 111 points
No one is happier about that fact than Golden Knights center Jack Eichel
The second overall pick of the 2015 NHL Draft behind Connor McDavid, the 26-year-old Eichel will finally make his Stanley Cup playoff debut in his eighth season. He moved to Vegas as part of a November 2021 trade with the Buffalo Sabres that also featured Alex Tuch and Peyton Krebs.
Eichel had 66 points (27 goals, 39 assists) in 67 games this season, his first full campaign since undergoing artificial disk replacement surgery.
"I'm excited," Eichel said. "It's something that we worked hard for. It should be a great atmosphere in here and nothing is better than playoff hockey. I haven't played in it, but watching it, it was always real intense and I'm looking forward to being a part of it."
Winnipeg needed a late 5-1-0 stretch to grab the second wild-card spot with 95 points. It's the second time the Jets have played Vegas in the playoffs, losing the 2018 Western Conference finals in five games
"Five years is a long time," Winnipeg coach Rick Bowness said about a potential revenge factor. "A lot of water under the bridge since then. Listen, any time you are in a playoff series and you lose, no matter how long, it stays with you. So I'm sure some of these guys are upset that they ended up losing that series. I think any time you get into the Stanley Cup playoffs and you lose, that stays with you."
Jets goaltender Connor Hellebuyck, who started an NHL-most 64 games and finished with 37 wins, a 2.49 goals-against average and .920 save percentage, was in net during the series-ending loss in 2018. In Game 1 of this year's series, the 2020 Vezina Trophy winner will face his former backup, Laurent Brossoit
Brossoit, who began the season playing 23 games with Henderson (Nev.) of the AHL after undergoing summer hip surgery, went 7-0-3 in 10 starts for the Golden Knights, including a finishing run of 5-0-0 with a 1.59 GAA and a .946 save percentage
"I taught him everything he knows that year," Brossoit joked of Hellebuyck's Vezina season. "I think he'll attest to that. It will be fun to go against him. We got along really well. We had a good, competitive, healthy relationship. It'll be fun to see him on the other end and it'll be that much sweeter when we win."
The Golden Knights won all three meetings with the Jets this season, but the most recent was before Christmas
Vegas got a piece of good news on the injury front Monday when captain Mark Stone was activated off long-term injured reserve. Stone has been out since Jan. 12 and underwent back surgery on Jan. 31.
"I feel really good and really confident," said Stone, who is expected to play on a third line with Chandler Stephenson and Michael Amadio. "I'm excited to get back."
--Field Level Media