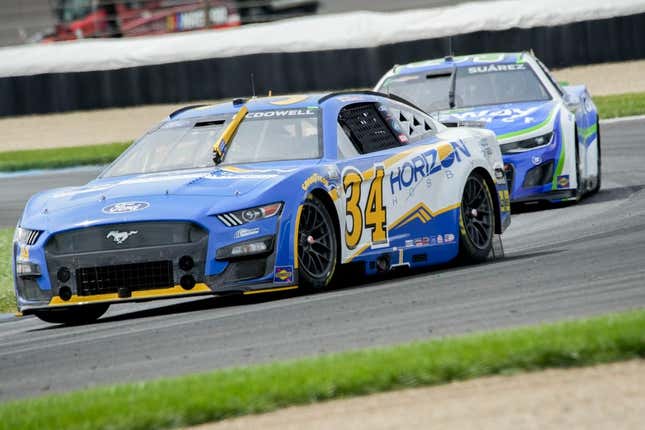 The wins may be rare for Michael McDowell, but both have come at legendary motorsports venues.
Is Texas or Florida State a bigger national title contender? | Agree to Disagree
McDowell earned a spot in NASCAR's postseason by winning Sunday's Verizon 200 at the Brickyard, the third Cup Series race on the Indianapolis Motor Speedway Road Course in Speedway, Ind.
In the No. 34 Ford for Front Row Motorsports, the 38-year-old McDowell took the lead for the final time from Christopher Bell and beat Chase Elliott by 0.937 seconds for his second win in 453 starts.
His previous victory was the season-opening Daytona 500 on Feb. 14, 2021. He became the 14th unique winner in 2023.
Calling it "a dream come true," the 16-year NASCAR Cup Series veteran made the postseason for the second time and gave Ford its third consecutive win.
"I'm so thankful to still be grinding it out in the Cup series," said McDowell, who paced a career-high 54 laps. "I don't know if we were dominant, but it felt pretty dominant to me. ... I thought we could point out way in (to the playoffs), but after the car that we had yesterday in practice, I thought, 'We've got a good shot at winning if we can just get track position and maintain it.'"
He added, laughing, "To win at Daytona and now at Indy, I feel like I'm cherry-picking."
Elliott will likely have to win one of the two remaining races at Watkins Glen or Daytona to participate in the playoffs.
"I just needed to be a little better," the No. 9 Hendrick Motorsports driver said. "Congrats to Michael, he did a good job. Ran a great race and stayed mistake-free. That's what you've got to do to win."
Daniel Suarez, Tyler Reddick and Alex Bowman rounded out the top five finishers in a race that saw just one caution period. Bell dropped to ninth place.
Three-time Australian Supercars champion Shane van Gisbergen, who was victorious on the Chicago Street Course in his Cup debut in July, brought his No. 91 Trackhouse Racing Chevrolet home in 10th.
With his first pole position of 2023 and the third of his career, Suarez led the way early on the 14-turn road course inside the famed Indianapolis Motor Speedway.
However, he eventually relinquished the point in his No. 99 Camaro to McDowell on the 2.439-mile layout.
The first driver out of the playoffs and needing bonus points as the 24th race of the regular season began, McDowell kept the top spot to win 15-lap Stage 1 over Suarez.
Denny Hamlin, who had finished outside the top 10 in the past nine road-course events, claimed the points in the second stage and immediately pitted.
McDowell padded his strong points day by running second to the No. 11 Joe Gibbs Racing driver.
Battling with Elliott for second place on Lap 48, Suarez bumped the 2020 champion out of position. But Suarez soon had a slow stop during green-flag pitting.
McDowell reassumed the lead with less than 30 laps to go, building a lead of 3.5 seconds over Elliott and 9-plus over Suarez.
The Phoenix native saw Elliott's No. 9 Chevy get to within two seconds of him, but he was able to keep his Mustang out front for his first win in 40 starts on a road course.
—Field Level Media