Because we have this fear that the Olympics is going to last two weeks and we're not going to understand a single thing that's happening, we've decided to ride this Johnny Weir fellow for a while. (So to speak.)
We were playing around on Weir's official site this morning, and we found all kinds of info that pretty much secures he's going to be the most entertaining athlete to watch, for better or worse. Some highlights:
• Of his 10 favorites songs, five are by Christina Aguilera.
• He counts Moulin Rouge, Hedwig and the Angry Inch, Velvet Goldmine and The Bodyguard as his favorite films.
• His favorite comedian is Margaret Cho.
• His favorite books are "The Devil Wears Prada" and Nicole Richie's "The Truth About Diamonds."
• He loves polar bears.
• His signature quote: "People ask if I'm in love with you, cause I'm sitting here with your picture and smiling to myself. I'm kinda lost in my thoughts of you, my heart speaks before my mind thinks through and I blush as I say yes." — Christina Aguilera
Honestly, nothing new here. We found the same things surfing through Rulon Gardner's official site.
Johnny Weir's Favorites [Figure Skaters Online]
Let The Games, And The Fussing, Begin [Deadspin]
G/O Media may get a commission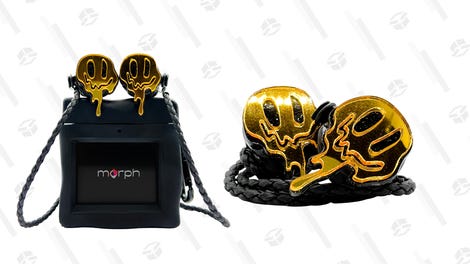 morph audio
Morph Earphones
(AOL's Sports Bloggers Live has a most enjoyable interview with Weir.)