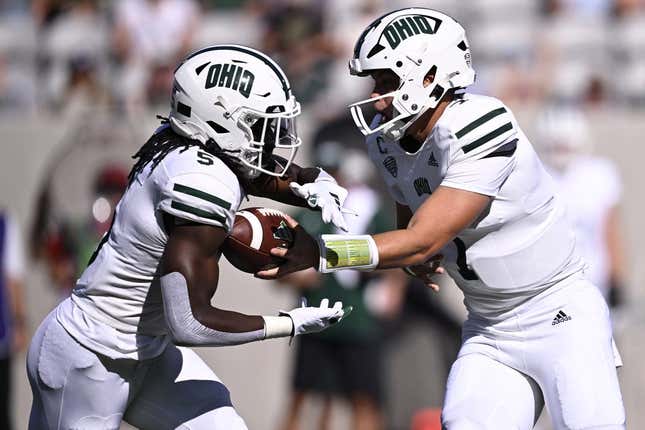 Iowa State nearly overcame an early 17-0 deficit in last week's eventual 20-13 home loss to in-state rival Iowa.
How running an NFL team is like running a restaurant | Chef Emeril Lagasse
For Cyclones defensive coordinator Jon Heacock, holding the Hawkeyes to three points after halftime looms as a significant building block entering Saturday's game against Ohio in Athens, Ohio.
"Overall, our fight to the end was important," Heacock said. "We're a young group. ... You never know what young teams are really going to do. You just don't, until they're in the fire."
Iowa State (1-1) hopes to kick-start its offense against the Bobcats (2-1). Rocco Becht, who remains the starting quarterback amid the gambling investigation involving projected starter Hunter Dekkers, completed slightly better than 50 percent of his passes for 203 yards against Iowa.
Becht threw a touchdown and also an interception that was returned for a score.
Ohio is coming off a 17-10 road victory at Florida Atlantic. Kurtis Rourke was 18-for-29 passing for 203 yards and a touchdown, while O'Shaan Allison rushed 22 times for 80 yards and a score.
"There were glimpses in that game at FAU that you saw (what) we're capable on offense," Bobcats coach Tim Albin said. "You've got to finish drives, but defense is really playing well, so it's exciting, and we're looking forward to the next challenge."
The Cyclones can attest, as head coach Matt Campbell called Rourke "the toughest quarterback we've faced so far this season."
Iowa State has won each of the previous six meetings between the schools, including last season's 43-10 home romp that saw the Cyclones outgain the Bobcats 463-233. Ohio fumbled four times, losing two, while throwing two interceptions.
The only previous meeting in Athens — on Sept. 22, 2001 — also marked the closest margin of victory in the series. The Bobcats took an early 14-7 lead but were unable to hold on in a 31-28 defeat.
Ohio is hosting a Power 5 opponent for the first time since losing 29-9 to Syracuse in the 2021 season opener.
—Field Level Media