There was a stat making its way around basketball twitter yesterday afternoon that cited SportVU data showing that Carmelo Anthony actually racks up 6.8 assist opportunities per game. Compared with his 2.8 assists per game average, this seems like an encouraging number! Except, it isn't really.
This is, unfortunately, one of the ways that very specific stats can be very misleading when stripped of their context. Yes, Melo gets those 6.8 assist opportunities, and yes, they are the chances that he gives his teammates to score the ball. But Chris Paul amasses 21.4 of these per game; John Wall, 18.7; and Steph Curry, 17. Pau Gasol has 7.1 in fewer minutes than Carmelo, and with far fewer touches (42 vs. 53 offensive touches).
But to really get a look at how Melo fits into this specific stat, you've got to adjust for a few things. For one, Melo plays a lot of minutes. So we adjusted the assist opportunities per game number to per 40 minutes, and only included players who played at least 20 minutes per game. On this list, Carmelo ranked 103 out of 217 qualifying players.
But Carmelo also carries a heavy, heavy scoring burden, and should not be punished for this by being compared with players who only have to worry about setting up teammates, not their own offense. (Shaun Livingston, for example, averages 7.1 assist opportunities in 22.5 minutes.) So we cut the list down to the top 50 players in the NBA by usage rate, which tracks what percentage of a team's possessions a player uses. (Carmelo is currently fifth in the league in usage.)
At the bottom of the post is a quick and dirty (and very big) table of the top 50 players in usage who also played 20 minutes per game, sorted by assist opportunities per 40 minutes. We ended up with 46 names. Carmelo ranks 40th, just behind Dion Waiters, and ahead of LaMarcus Aldridge, Bradley Beal, Al Jefferson, Andray Blatche, Carlos Boozer, and Brook Lopez. The gravitational body known as Boogie Cousins sits a few places above Melo, at 6.9 AO per 40.
G/O Media may get a commission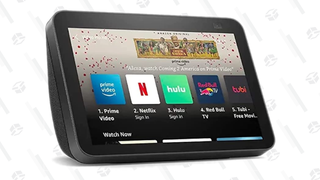 One place where the original stat does hold water: the percentage of shots that Melo's teammates are hitting off his assist opportunities. His 43.1 percent is third-worst among those 46 players, ahead of just Brook Lopez and (grimly) Derrick Rose. So in a fair world, maybe Melo is up in the high threes for APG. But that stat also tells you a little something about the quality of looks that Melo creates. In that respect, Melo is not in the same stratosphere as guys with high percentages and high opportunities, like LeBron, MCW, Jrue, and KD.
Now, Melo has actually been using less of the ball than he did last year, and by a lot of metrics, this has been one of his finest statistical seasons. But if you're trying to build the case that he's been an adequate passer this season, these aren't the stats you're looking for.
Top image via Maddie Meyer / Getty Images
| Player | MIN per game | Assist Opportunities per 40 | PER | AST per game | Assist Shooting % (Non-FT) |
| --- | --- | --- | --- | --- | --- |
| Chris Paul (LAC) | 34.9 | 24.5 | 27.38 | 11.3 | 52.8% |
| Ty Lawson (DEN) | 34.5 | 20.5 | 20.39 | 7.9 | 44.6% |
| John Wall (WAS) | 37.8 | 19.8 | 20.19 | 9.1 | 48.7% |
| Jeff Teague (ATL) | 32.7 | 19.3 | 16.99 | 8 | 50.6% |
| Stephen Curry (GSW) | 37.4 | 18.2 | 24.58 | 9.2 | 54.1% |
| Tony Parker (SAS) | 30.5 | 17.2 | 20.22 | 6.1 | 46.6% |
| Brandon Jennings (DET) | 37.3 | 17.2 | 17.01 | 8 | 50% |
| Jrue Holiday (NOP) | 34.6 | 16.8 | 17.92 | 8 | 55.2% |
| Kobe Bryant (LAL) | 29.6 | 15.9 | 11.56 | 6.3 | 53.4% |
| Isaiah Thomas (SAC) | 31.3 | 15.8 | 22.24 | 5.6 | 45.2% |
| Russell Westbrook (OKC) | 33.3 | 15.6 | 21.43 | 6.8 | 52.3% |
| Michael Carter-Williams (PHI) | 36.6 | 15.2 | 19 | 7.8 | 56.1% |
| Mike Conley (MEM) | 34.1 | 15.1 | 20.63 | 6.3 | 48.8% |
| Eric Bledsoe (PHX) | 34.6 | 14.2 | 21.45 | 6.3 | 51.2% |
| Kyrie Irving (CLE) | 34.9 | 13.6 | 18.84 | 6 | 50.4% |
| Derrick Rose (CHI) | 30.9 | 13.2 | 10.36 | 4.3 | 42.2% |
| LeBron James (MIA) | 35.6 | 13.1 | 30 | 6.6 | 56.4% |
| Brandon Knight (MIL) | 28.1 | 12.8 | 13.54 | 4 | 44.4% |
| Monta Ellis (DAL) | 36.8 | 12.4 | 18.78 | 5.9 | 51.8% |
| Damian Lillard (POR) | 36.2 | 12.4 | 20.6 | 5.8 | 51.8% |
| James Harden (HOU) | 38.6 | 11.9 | 20.71 | 5.6 | 48.7% |
| Ramon Sessions (CHA) | 21.7 | 11.8 | 16.06 | 2.9 | 45.3% |
| Gordon Hayward (UTA) | 36.3 | 11.5 | 15.3 | 4.5 | 43.3% |
| Kemba Walker (CHA) | 35.5 | 11.3 | 18.09 | 4.4 | 44% |
| Tyreke Evans (NOP) | 25 | 11 | 17.08 | 3.8 | 55.1% |
| Tony Wroten (PHI) | 26.1 | 10.4 | 13.61 | 3.6 | 52.9% |
| Dwyane Wade (MIA) | 33.8 | 10.4 | 22.59 | 4.8 | 54.5% |
| Kevin Love (MIN) | 36.7 | 9.5 | 27.96 | 4.2 | 48.3% |
| Pau Gasol (LAL) | 30.6 | 9.3 | 16.62 | 3.2 | 45.1% |
| Evan Turner (PHI) | 36.7 | 9.2 | 14.09 | 4 | 47.6% |
| Kevin Durant (OKC) | 38.1 | 9 | 27.72 | 4.7 | 54.7% |
| Paul George (IND) | 36.7 | 8.3 | 23.78 | 3.6 | 47.4% |
| DeMar DeRozan (TOR) | 38.9 | 7.4 | 16.71 | 3.3 | 45.8% |
| Dirk Nowitzki (DAL) | 32.8 | 7 | 23.43 | 2.9 | 50.9% |
| Jamal Crawford (LAC) | 29.1 | 6.9 | 15.9 | 2.6 | 52% |
| DeMarcus Cousins (SAC) | 32.1 | 6.9 | 26.64 | 3.3 | 60% |
| Rodney Stuckey (DET) | 27.7 | 6.8 | 16.43 | 2.2 | 46.8% |
| Blake Griffin (LAC) | 36.8 | 6.6 | 20.81 | 3.1 | 50.8% |
| Dion Waiters (CLE) | 28.8 | 6.5 | 14.32 | 2.5 | 53.2% |
| Carmelo Anthony (NYK) | 40 | 6.5 | 23.19 | 2.8 | 43.1% |
| LaMarcus Aldridge (POR) | 37.3 | 6.4 | 22.73 | 2.8 | 46.7% |
| Bradley Beal (WAS) | 38.1 | 6.1 | 13.82 | 3 | 51.7% |
| Al Jefferson (CHA) | 31.9 | 4.3 | 20.31 | 1.9 | 55.9% |
| Andray Blatche (BKN) | 22.9 | 4 | 18.8 | 1.3 | 56.5% |
| Carlos Boozer (CHI) | 30.8 | 3.9 | 15.22 | 1.8 | 60% |
| Brook Lopez (BKN) | 31.5 | 3 | 25.76 | 0.9 | 37.5% |