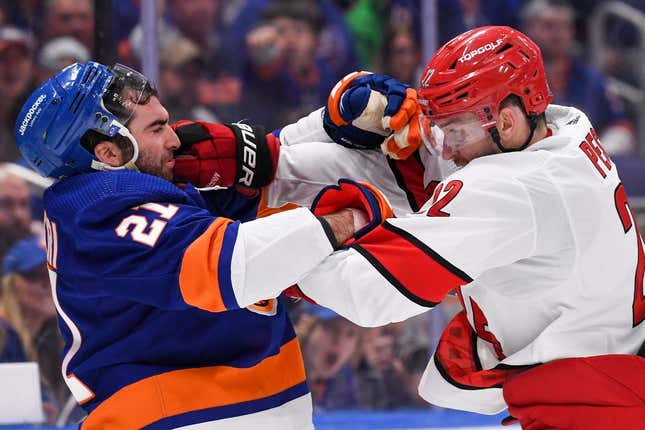 The New York Islanders look to build on their late surge and even their Eastern Conference first-round series against the visiting Carolina Hurricanes in Game 4 on Sunday afternoon in Elmont, N.Y
Does Jimmy Butler have the best NBA Finals origin story? | Agree to Disagree
The Hurricanes won the series' first two games before the Islanders responded by scoring four goals in a fracas-filled span of 2:18 late Friday night en route to posting a 5-1 victory
Kyle Palmieri redirected Sebastian Aho's shot past Antti Raanta to snap a tie with 3:51 remaining in the third period for the Islanders
"Big goal," Palmieri said. "It was a tight game, and it feels good to come out on top."
"We were able to put a couple in and get a lead (Friday) at the end there with that tip from (Palmieri) to really put ourselves in a great position," said captain Anders Lee, who joined Matt Martin and defenseman Scott Mayfield in scoring during the late surge.
The four-goal flurry was the fastest in NHL playoff history, bettering the previous mark of four goals in a span of 2:35 set by the Montreal Canadiens in Game 5 of their semifinal series in 1944.
"Did you think they were going to roll over and die?" Hurricanes left winger Jordan Martinook said. "We know they're not going (to do that). They're here for a reason. Obviously we want to try to win every game and we're trying to get the next one, so learn some things from (Friday) and come back Sunday.
But the main topic of conversation among the Islanders was the feistiness that began when Hurricanes center Martin Necas fell into the New York bench and jabbed at center Brock Nelson's head with 2:19 left
"Brock's got a facemask on," Palmieri said. "So I'm sure he's OK."
Sixty-two penalty minutes were assessed in the final 50 seconds of the game. Instead of holding one final faceoff, the referees ended the game with 2.8 seconds left following a tussle near the benches that involved every non-goalie on the ice.
"I think the deeper you get into these series, I just think it's going to continue to get a little nastier and a little rougher -- like every other series I've ever been a part of," Martin said. "As soon as you can put 20 men in front of another 20 men who want the same thing and you play them over and over and over again, it's going to boil over."
The Hurricanes' frustrations prior to the final minutes stemmed mostly from their struggles on the power play and the energy they had to expend on the penalty kill
Carolina was 0-for-3 on the power play Friday and is 1-for-7 in the last two games. The Hurricanes scored both of their goal with a man advantage in a 2-1 win in Game 1 on Monday night
"The power play cost us the game, that was clear," Carolina coach Rod Brind'Amour said. "Can't rely on killing penalties. That's not going to work."
--Field Level Media