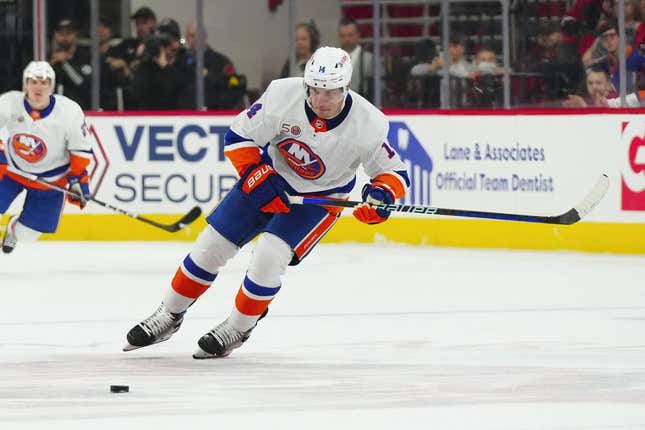 New York Islanders center Bo Horvat apologized on Monday and tried to clarify comments he made Saturday about Vancouver that many interpreted as putting the city's hockey market in a negative light
Bass' ERA stinks, but not compared to who he is off the mound | Worst of the Week Countdown
After a home win over the Philadelphia Flyers on Saturday night, Horvat was asked by a reporter, "How does this rank for you in playoff pushes, the excitement of this building and the fans' involvement over the past couple of games?"
Horvat, who spent eight and a half seasons with the Canucks, answered, "I mean it's been unbelievable. A lot better than Vancouver, I will tell you that for free." The home crowd responded with loud cheers.
After backlash on social media from disgruntled Vancouver fans, Horvat tried to explain himself on Monday.
"I didn't mean any disrespect to the fans of Vancouver or my teammates or the city of Vancouver at all. It wasn't directed at them," he said. "The fans were all excited and I was excited to be in a playoff push. It was just one of those things where my emotions got the best of me. I was just happy to be there. It might have come out the wrong way to a lot of people, so I apologize for that.
"I just wanted to express that. It maybe came out the wrong way to a lot of people."
Horvat, 28, also said he "really enjoyed" his time with the Canucks and that is "really happy" to be with the Islanders now
In January, with Horvat set to become a free agent in the summer and the Canucks slumping, Vancouver traded him to the Islanders for forward Anthony Beauvillier, prospect Aatu Raty and a conditional first-round pick in the upcoming NHL Draft
In February, after the home fans reacted enthusiastically to his first goal with the Islanders, Horvat said, "I haven't had a chant like that in a building that loud, I don't think ever.
In December of last year, after a three-goal home loss to the Minnesota Wild in which the Canucks were booed, Horvat said, "We couldn't buy a goal and then you hear the boos. It sucks to hear that. It sucks to hear your own fans booing against you. We're not trying not to score ... But it is what it is."
Horvat scored 38 goals and 31 assists in 77 games this season between the Canucks and the Islanders
The Canucks have been eliminated from playoff contention, but the Islanders are still fighting for a wild-card spot in the Eastern Conference. They visit the Washington Capitals on Monday night
--Field Level Media