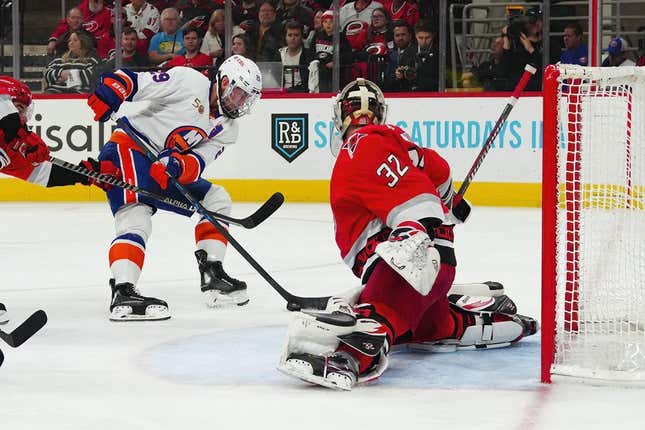 Pierre Engvall and Brock Nelson each had a goal and an assist, and the New York Islanders fended off elimination by defeating the Carolina Hurricanes 3-2 in Game 5 of an Eastern Conference quarterfinal series on Tuesday night in Raleigh, N.C
Aaron Rodgers should go full Joe Namath | Comedian Bert Kreischer
Mathew Barzal also had a goal. New York goalie Ilya Sorokin stopped 34 shots, including 11 in the third period.
Paul Stastny and Sebastian Aho scored the Carolina goals.
Game 6 will be Friday night in Elmont, N.Y., where the teams split two earlier games in the series.
The Islanders, who began the third with a 3-1 lead, were in a protective mode in the period, producing only five shots on goal. The Hurricanes pulled goalie Antti Raanta with 2:30 remaining but couldn't come up with the tying tally
The Hurricanes held the upper hand in shots in every period. New York also had five shots in the first period
Raanta recorded 19 saves.
Engvall notched his first goal of the playoffs 10:27 into the game. Nelson assisted on the goal.
Aho was struck on the face by the puck in the second period. The puck bounced to Nelson, who converted for a 2-0 lead.
Blood spilled from Aho, and he was assisted to the locker room. He returned later in the period.
Stastny then scored at 13:10 of the second before Barzal's goal at 18:05 restored the two-goal margin.
Aho's goal came with 9:32 left in the game. It was his third goal of the series.
Nelson, Barzal and Stastny all have two goals in the series.
The Hurricanes had a would-be power-play goal wiped out in the first period when a replay review revealed an offsides infraction. Carolina ended up going 0-for-4 on power plays
New York went 0-for-3 on power plays.
Carolina lost a home playoff game for just the second time in its last 11 outings.
--Field Level Media