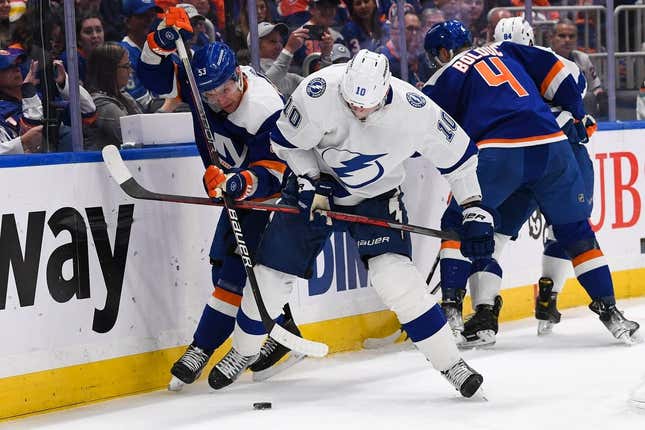 Brock Nelson collected a goal and two assists as the host New York Islanders scored four times in the second period and recorded a crucial 6-1 victory over the Tampa Bay Lightning Thursday night in Elmont, N.Y
Bass' ERA stinks, but not compared to who he is off the mound | Worst of the Week Countdown
The Islanders (40-30-9, 89 points) remained in the second Eastern Conference wild-card spot, which would mean a first-round encounter with the NHL-best Boston Bruins. New York is tied in points with the Florida Panthers, who beat Ottawa. The Islanders have 34 regulation wins, one fewer than the Panthers
New York also remained one point ahead of the Pittsburgh Penguins, who beat the Minnesota Wild.
Nelson and Kyle Palmeiri scored in a span of 49 seconds midway through the second when the Islanders took command in a 15-shot period. Defensemen Adam Pelech and Ryan Pulock also scored before Simon Holmstrom and Bo Horvat tallied in the third as New York ended a six-game regular-season losing streak to the Lightning
Nikita Kucherov scored for the Lightning (45-27-6, 96 points), who mathematically lost home-ice advantage in the first round by dropping seven points behind the Toronto Maple Leafs
The Lightning also lost Taylor Jeannot and Patrick Maroon to injuries in the second. Jeannot sustained an apparent right leg injury in a collision with New York defenseman Scott Mayfield and Maroon appeared to sustain an upper-body injury when he collided with Horvat
New York goalie Ilya Sorokin made 27 of his 29 saves in the final two periods, including a diving stop on Pierre-Edouard Bellemare's shorthanded breakaway with about five minutes left in the second.
Tampa Bay's Brian Elliott allowed six goals on 40 shots.
After getting 15 shots blocked in the opening period, the Islanders opened a 1-0 lead with 16:14 left in the second
Shortly after Tampa Bay's Alex Killorn whiffed on a clearing attempt, Hudson Fasching attempted a wraparound before passing to Pelech at the left point.
Before Lightning star Steven Stamkos could block the shot, Pelech released a shot that sailed by Elliott
Nelson made it 2-0 with 10:06 remaining when he got a centering pass from Samuel Bolduc and scored his 33rd goal by lifting a shot from the left circle over Elliot. On the next shift, Palmieri came off the bench on a line change, got a cross-ice pass from Nelson before scoring from the right circle.
After Kucherov got free alone in the high slot following a turnover by Sebastian Aho with 3:13 remaining, Pulock made it 4-1 by sending a shot past five defenders from above the right circle past Elliott.
--Field Level Media