Court filings unearthed this week reveal that banks, the IRS, and a casino are lining up to collect from former star NFL running back Clinton Portis. Even worse, it looks like the bank is trying to foreclose on the house Portis bought for his mother in 2004.
Just last week, the bank holding the note to a home in Alachua County, Fla.—where Portis starred at Gainesville High School—continued its year-long quest to repossess the property whose deed is held by Portis and his mother, Rhonnel Hearn. That prompted a search into Portis's other legal troubles, which include:
The IRS claiming he owes nearly $500,000 in back taxes.

MGM Grand Casino in Las Vegas winning default judgment in the amount of $287,178.56.

A dealer seeking $157,290 in payments on an Audi S5.

Foreclosure proceedings on a $512,000 mortgage for a Miami condo.

Settlement to avoid possible foreclosure on a property in Coffee County, Ala.

A $20,000 lawsuit from a condo association over assessment money.
Portis avoided foreclosure on the Miami property last year by selling it and thus getting the lawsuit dismissed, but he's still facing trouble with the bright purple house north of Gainesville, which we believe is the one he purchased for his mother. (Purple and white are GHS's colors; Portis says the color reminds her of "royalty.") Court documents reveal Portis has yet to answer to the bank's complaint—records show a private investigator failed at all attempts to serve Portis with the foreclosure notice, though when contacted by the P.I. the former University of Miami star said he "had a lawyer," but refused to give the attorney's name.
Meanwhile, the Clark County court in Nevada just last month declared default judgment in total of $287,178.56 to MGM Grand in a case we believe deals with Portis's unpaid gambling debts. Court records show no attorney of record for Portis, and the default judgment implies he never responded to the lawsuit. Previously, Portis had been an investor in a failed casino that lost as much as $43.6 million. The lawsuit over the Audi S5 was dismissed without prejudice; we don't know its final outcome, but a settlement is likely.
You can read the court filings and other documents below. Do you have more information on Clinton Portis's legal or money problems? Contact us anonymously through our SecureDrop system.
G/O Media may get a commission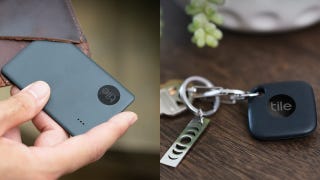 Up to 35% off
Tile Item Trackers
[The Independent Florida Alligator]
To contact the author of this post, write to tim@deadspin.com (PGP key) or find him on Twitter @bubbaprog.
Photo credit: Alberto E. Rodriguez/Getty Images. Additional reporting by Diana Moskovitz and Kevin Draper.