Washington State University announced today that an internal review had cleared football coach Mike Leach and his staff of any misconduct. Last month, star wide receiver Marquess Wilson was suspended for violating team rules, after which he quit the team and released a public letter alleging that coaches had abused players during the season.
Leach's troubles went back before that Nov. 10 statement, though. On Nov. 1, university officials received an email describing the coaching staff as "out of control" and saying that players had been ordered not to discuss the coaches' conduct with their parents or school administrators. Among the allegations in the email was that after an October incident in which players sent out vulgar messages on Twitter—leading Leach to ban the team from using Twitter—coaches soaked down a sandpit with water and forced the players to exercise in it in sub-freezing weather.
The email is part of a release of correspondence surrounding the Leach investigation, in response to a public records request. The name of the sender and many of the details have been redacted, but it's a nice introduction to the released documents, which provide an avalanche of complaints against Leach and his staff—including a coach striking players, the football staff rejecting the regular university medical trainers, and professors' offices being blasted with canned crowd noise from the practice field.
G/O Media may get a commission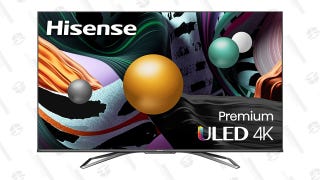 Save $350
Hisense ULED 65" Android 4K HDR Smart TV
We'll have more highlights from the internal emails tomorrow—a portrait of a football program that is totally, officially certified as being not at all out of control. In the meantime, here's the initial email, from someone who may or may not have been affiliated with Marquess Wilson. [UPDATE: A source familiar with the origins of the email says, "It came from someone not affiliated with Marquess Wilson."]:
November 1, 2012
Dear Board of Trustee, President, Athletic director of Washington State University.

(REDACTED) I feel that some of the things that are going on with WSU are completely out of control. (REDACTED).

As stewards of WSU you have a responsibility to make sure the athletes are not getting mistreated by their coaches. I feel that Coach Mike Leach and his staff are out of control. They have tried to get rid of injured players and have mistreated players. Coaches get rid of injured kids and mistreating players is highly inappropriate and should not be tolerated. I do not want to compare this to the Penn State situation as that was the worse abuse of power by any university we have ever seen. However, if WSU and people who know had handled it in the 1st time it would have saved a lot of kids.

There are many parents that are afraid their kids will be retaliated against. (REDACTED) There are many athletes who have the same concerns. To get to the bottom of this you might want to interview the current players and former players. That is what happened at Texas Tech with their basketball program. I know for fact that Coach Leach told the players if they have any concerns to not talk to their parents or administration. I find this strange if you have nothing to hide.

Below I have included some of the things that have occurred. I would expect WSU to investigate these allegations which I know to be true. WSU has an obligation to protect these young men. I would at the very least hope that you would talk to the current and past players and assure them that what they say will not be held against them.

Washington State University
Football Issues since Coach Leach became a Coach

*Midnight Maneuvers
-Team Assembles during the off season work outs in the spring semester from 10pm till 12 midnight for winter conditioning. Then they are expected to attend weight room workouts from 6:30am to 8:00am the next morning for a 3 week period.

*Player's were punished for being late to "Voluntary" practices and workouts during the summer
-Player's were made to do "Up Downs" for being late.

*Player's Disciplined during "Voluntary" Summer Workouts:
-Players were punished for performance issues during "Voluntary" workouts. Player were given various punishments during summer program because of performance issues. (Up Downs/Sand Pit)

*Sand Pit Punishment workouts (Mostly used as a "Punishment Tool")

*Offensive Linemen were punished for "Poor Performance" during the season and were forced to do Drills in the sand pit. Players were made to hold 45-pound plates over their heads while coaches sprayed water in their faces with water hoses. This was all because of poor performance in the game. Actually spoke to Officer in military who indicated they do not do this kind of treatment in boot camp.

*Coach Leach instructed the team to not tell their family members, WSU administrators or members of the WSU Athletic Department of any problems, punishments or frustrations that were being inflicted upon them by members of the WSU football coaching staff.

*October 24th at 5:00am (Weather:30 Degrees) WSU players were told to report to the "Sand Pit" for punishment. The players were all involved in the "Twitter Incident."
-The Sand Pit was hosed down with water prior to WSU football player's arrival
-Players were forced to "Roll" in the frozen sand and do "Bear Crawls" for an hour and fifteen minutes.
-I would like to say there is no place for anyone to use the word "nigger or bitches and hoes and do not have a problem with the coaches stand on that. However, I do have a problem with the actual punishment and it is totally out of control. The players who were forced to do so where, (REDACTED).

*Coaching staff knowing a player was innocent of crimes but said nothing to exonerate the player with the local police department because (REDACTED)

*(REDACTED) being treated like crap from Coach Breske because Coach Breske did not feel he could play on this level of football. (REDACTED)

*(REDACTED) kicked off the team due to a (REDACTED)

*Forcing injured players to participate in practice even though they have not been giving authority to return to practice from the doctor. Coach Breske (REDACTED) he did not care if he was not released to practice he had not seen him and he wanted to see him. (REDACTED)

*Departed WSU Scholarship Football Players since Coach Leach: (REDACTED)

(REDACTED)

Best Regards and looking forward to a response

(REDACTED