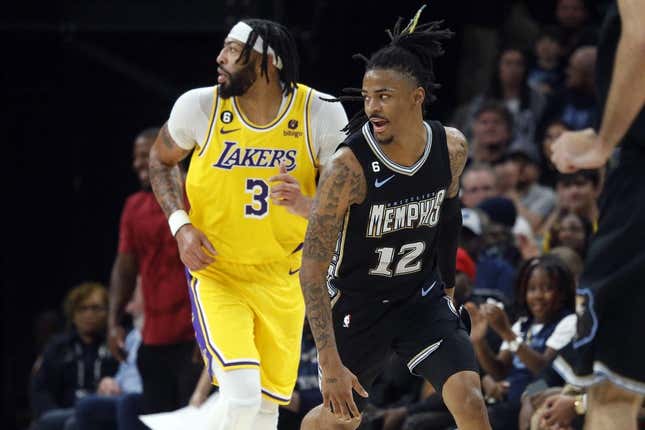 Ja Morant and the well-rested Memphis Grizzlies host LeBron James and the Los Angeles Lakers in Game 1 of their Western Conference first-round playoff series on Sunday afternoon
The second-seeded Grizzlies have had a week off to prepare for the postseason, while the seventh-seeded Lakers outlasted the Minnesota Timberwolves in overtime in Tuesday's play-in game
James (30 points, 10 rebounds) and Anthony Davis (24 points, 15 boards) recorded double-doubles in the Lakers' 108-102 win against the Wolves
Davis added three blocked shots as the Los Angeles defense limited Minnesota to 12 points in the fourth quarter and four points in overtime.
Davis was key to Los Angeles' surge over the final month of the regular season, scoring 30-plus points eight times since March 3. The Lakers went 13-6 over that stretch, putting them in position to host the play-in matchup
Their reward is a meeting with a Memphis team that won 51 regular-season games and finished two games out of first in the West. However, the Lakers claimed the season series, 2-1, capped with a 112-103 victory on March 7
Davis went for 30 points and 22 rebounds in that meeting, a game in which James and Morant were both unavailable.
Morant is the catalyst of the Memphis offense, averaging team-highs of 26.2 points and 8.1 assists per game. But when asked about facing Morant, D'Angelo Russell -- a late-season acquisition for the Lakers -- said he "would rather talk about (Los Angeles).
"I'm sure everybody's talking about them," Russell said at Friday's media availability. "I really don't wanna give y'all no headlines."
Russell did concede that the key to slowing Memphis was "containing Ja Morant."
Memphis will look to contain Los Angeles on the other end without one of its stoppers. Steven Adams, who averaged a team-high 11.5 rebounds per game during the regular season, could miss the playoffs with a knee injury that has kept him out since January.
That leaves Jaren Jackson Jr., one of three finalists named Friday for the NBA's Defensive Player of the Year award, shouldering more responsibilities against Los Angeles' Davis.
Jackson averaged a league-high 3.0 blocks per game and played a significant role in Memphis finishing the regular season with the NBA's lowest opponent field-goal percentage (.453).
In Adams' absence, Xavier Tillman Sr. will be called on to take up some of the defensive duties. Tillman averaged 9.7 points and 6.7 rebounds in his 29 starts this season.
"Just defensively, you've got to be locked in at all times," Tillman said of guarding Davis during the Grizzlies' media availability on Friday. "He's one of those guys who takes advantage if you're sleeping on the offensive glass, or getting post-ups or easy lobs.
Memphis held the No. 2 seed last year, too, but bowed out in the Western Conference semifinals with a 4-2 series loss to eventual champion Golden State.
The Lakers missed the playoffs last season and were knocked out in the first round by Phoenix during the 2020-21 postseason
--Field Level Media