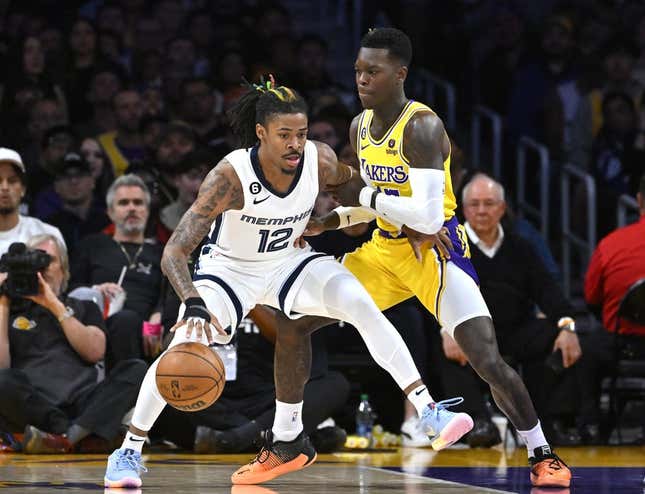 Ja Morant, suspended by the Memphis Grizzlies following the emergence of a second online video showing him brandishing a gun, took responsibility in a statement Tuesday night
Bass' ERA stinks, but not compared to who he is off the mound | Worst of the Week Countdown
His first public comments came after NBA commissioner Adam Silver said on ESPN that he was shocked by Morant's latest actions and that the league was conducting an investigation.
In an Instagram Live video that appeared last weekend on the account of Morant's friend Davonte Pack, Morant was seen flashing a handgun as a song by rapper YoungBoy Never Broke Again plays. The Grizzlies announced on Sunday that he was suspended indefinitely from all team activities
Morant said in his statement, "I know I've disappointed a lot of people who have supported me. This is a journey and I recognize there is more work to do. My words may not mean much right now, but I take full accountability for my actions. I'm committed to continuing to work on myself."
Two months earlier, Morant served an eight-game suspension issued by the NBA after he was seen on social media flashing a handgun at a Denver nightclub. Following an investigation, the league announced that Morant was "holding a firearm in an intoxicated state," with Silver adding that "Ja's conduct was irresponsible, reckless and potentially very dangerous."
Morant subsequently underwent counseling at a Florida facility.
Upon his return to the team, Morant said of his intentions moving forward, "Just being more responsible, more smarter. That's pretty much it for me. Obviously, I made mistakes in the past, caused a lot of negative attention not only for me, but my family and my team and the organization, and I'm completely sorry for that. So my job now is, like I said, to be more responsible and more smarter and don't cause any of that no more."
Silver, in his Tuesday interview with ESPN, referenced his meeting with Morant after the March incident.
"We talked directly about the consequences first," Silver said on ESPN. "Before we got to a subsequent potential to have done something wrong, we were very focused on the misconduct that was in front of us at the time. Frankly, most of our conversation was about how incredibly serious the first incident was of waving a firearm on social media.
"Again, the consequences there -- an eight-game suspension -- was pretty serious and something that he, at least to me, seemed to take incredibly seriously in that time. And we spoke for a long time about not just the consequences that could have on his career, but the safety issues around it -- (Morant) could've injured, maimed, killed himself, someone else with an act like that -- and also the acknowledgment that he's a star.
"He has an incredibly huge following, and (we discussed) my concern -- and I thought he shared with me -- that millions, if not tens of millions, of kids globally would have seen him do something that was celebrating in a way that act of using a firearm in that fashion. So I at least was left with the sense that he was taking this incredibly serious."
Morant, 23, averaged 26.2 points, 5.9 rebounds and 8.1 assists in 61 games (59 starts) in the 2022-23 season. Memphis was eliminated in the first round of the Western Conference playoffs by the Los Angeles Lakers.
Morant has a franchise-record, five-year $193 million contract extension that will begin with the 2023-24 season. Because he did not make an All-NBA team this year, he did not qualify for a supermax contract worth $231 million.
--Field Level Media