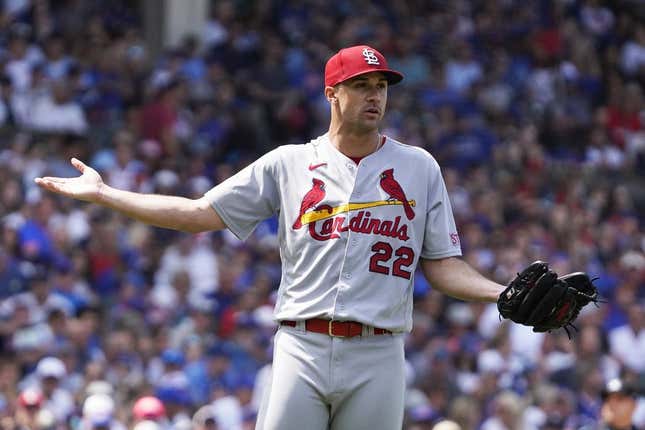 Right-hander Jack Flaherty will make his first start for the visiting Baltimore Orioles on Thursday afternoon as they try to clinch their four-game series with the Toronto Blue Jays
How running an NFL team is like running a restaurant | Chef Emeril Lagasse
Baltimore obtained Flaherty before the trade deadline Tuesday from the St. Louis Cardinals in exchange for three prospects
The Orioles wanted his experience and innings-eating capability down the stretch to bolster a young staff as they try to hold on to first place in the American League East
"These guys have been playing unbelievable," Flaherty said. "For them to be in first place and to be playing the way they have all year, it's special. Really lucky to come in here and join these guys.
The Orioles won the first two games of the three-game series in Toronto but lost 4-1 on Wednesday. Baltimore leads the season series 7-2
Flaherty (7-6, 4.43 ERA) has faced the Blue Jays just once in his seven-year career, and it was this season. On April 1 in St. Louis, Flaherty picked up the win, allowing no runs or hits but walking seven in five innings. He stuck out four
"I'm looking forward to going deep into October, as far as it goes," Flaherty said. "Just my job is hopefully going to be to go out, take the ball every fifth day and then execute.
Flaherty had a 3.45 ERA in his final 12 starts with the Cardinals, including a 3.03 ERA in five July outings. The improvement, he said, was the result of "doing the simple things right" and improved fastball command
The Orioles made room on the active roster for Flaherty when they optioned right-handed reliever Bryan Baker to Triple-A Norfolk
The Blue Jays also made moves on Wednesday. They put shortstop Bo Bichette (right patellar tendinitis) on the injured list, recalled right-hander Thomas Hatch from Triple-A Buffalo and optioned right-hander Nate Pearson to Buffalo
Toronto's starter on Thursday will be right-hander Kevin Gausman (8-5, 3.10 ERA). Gausman pitched the first five-plus seasons of his 11-year career for the Orioles. In three career starts against them, he is 1-1 with a 4.76. Gausman threw eight innings of two-run ball against Baltimore in a no-decision on May 21
Paul DeJong, acquired in a trade with the Cardinals on Tuesday, started at shortstop for Toronto on Wednesday and was 0-for-3
Bichette was injured in the third inning on Monday when he pulled up abruptly between first and second after hitting a single to right. He leads the American League with a .321 average and 144 hits
"The quicker we can get Bo back, the better, obviously," Blue Jays manager John Schneider said, "but we've got to see how he goes with each day, with each treatment, with each activity.
An MRI revealed no structural damage to the knee
"In terms of importance, it's right up there with the most on the team in terms of what he brings from an offensive and defensive standpoint, playing every single day basically," Schneider said. "He's right up there as the guy who makes us go with his production.
The Blue Jays won the Wednesday game by scoring three runs in the sixth inning without a hit. They got three consecutive walks, two straight hit batters and one infield error, all with two outs, in the winning rally
Toronto opened the scoring in the fourth inning on an RBI single by George Springer, who ended an 0-for-35 drought that matched a club record for hitless at-bats. Ed Sprague (1994) and Danny Jansen (2021) also had 0-for-35 droughts as Blue Jays
Toronto got another good start from left-hander Yusei Kikuchi on Wednesday. He allowed one run on six hits and a walk in six innings. He has permitted two runs or fewer in 10 of his past 12 starts, going 4-1 with a 2.95 ERA in that span
--Field Level Medi