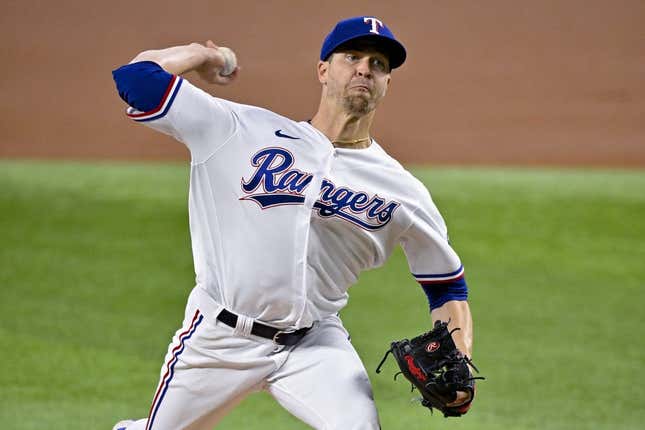 Jacob deGrom remains a must-see attraction in baseball.
After a rough Opening Day start against the Philadelphia Phillies, the Texas Rangers star showcased why he remains one of the best in his most recent start. He carried a perfect game into the fifth inning and recorded 11 strikeouts in a 5-2 victory over the Baltimore Orioles on Wednesday
Bass' ERA stinks, but not compared to who he is off the mound | Worst of the Week Countdown
deGrom (1-0, 5.59 ERA) returns to the mound against the Kansas City Royals in the middle contest of a three-game series on Tuesday night in Arlington, Texas. There's no question he's the top storyline going into it, especially with the possibility of him turning in a special performance each time out
deGrom is already putting himself in some exclusive company in the Rangers record books. He has struck out 18 of 39 (46.1 percent) batters faced through two starts, trailing only Hall of Famer Nolan Ryan (23 strikeouts in 1989)
As Rangers catcher Jonah Heim put it, "He's locked in from pitch one. You see this stuff, I kind of lose words trying to talk about it, because it's so special. He has his strengths and we're going to push through that
"We're going to make the other team hit his strengths, and his strengths are pretty good. So I think we're going to take that nine times out of 10."
deGrom will be making just his second career regular-season start against the Royals. As a member of the New York Mets, he earned a win in a start on Aug. 17, 2019, at Kansas City, allowing one run on three hits with two walks and five strikeouts over seven innings. He also faced the Royals in Game 2 of the 2015 World Series, taking the loss
Offensively, the Rangers have scored 19 runs combined in their past two games. They posted an 11-2 victory over the Royals on Monday, highlighted by a grand slam by Adolis Garcia. Corey Seager and Heim also homered for Texas
With Monday's victory, Texas improved to 31-10 against Kansas City since July 2016 and have won nine of the past 11.
On the injury front, the Rangers placed catcher Mitch Garver on the 10-day injured list before Monday's game with a mild left knee sprain. The Rangers brought up catcher Sandy Leon from Triple-A Round Rock
For the Royals, the biggest news in the clubhouse was first-year manager Matt Quatraro rejoining the club in Texas. Quatraro missed the previous five games after testing positive for COVID-19
"Not everybody gets a break after five games of their career," Quatraro said before Monday's game. "It was a little poorly timed, but I'm happy to be back."
The Royals will look to even the series Tuesday behind right-hander Jordan Lyles (0-2, 4.91)
Lyles is 2-6 with a 6.27 ERA over 12 games (10 starts) vs. the Rangers in his career. One of his two wins came in his lone start against Texas last season when he pitched for the Baltimore Orioles
Lyles spent the 2020-21 seasons with the Rangers and was 11-19 with a 5.60 ERA. The Royals are his eighth team
--Field Level Media