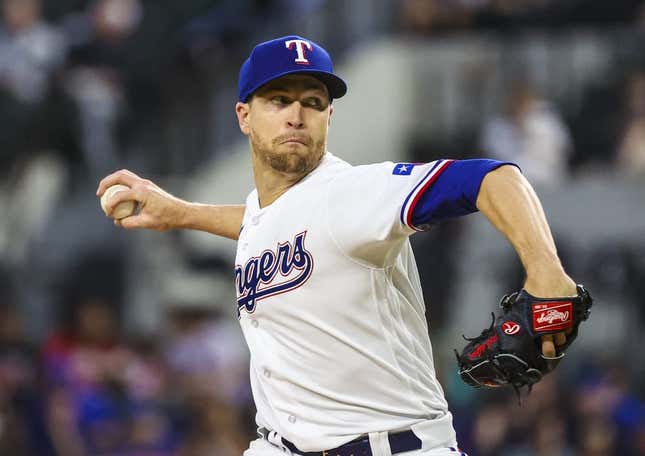 Jacob deGrom looks to add to his historic start when the American League West-leading Texas Rangers visit the struggling Kansas City Royals to begin a three-game series on Monday
Does Jimmy Butler have the best NBA Finals origin story? | Agree to Disagree
The Rangers took two of three from rival Houston over the weekend and have won five of their last seven. It is the latest point for the club to own a share of first place in the West since the final day of the team's division-winning season in 2016
The Royals suffered a three-game sweep against the Atlanta Braves over the weekend and saw their home record drop to 1-9 at Kauffman Stadium, their worst at home since a 1-12 start in 2018
DeGrom, despite struggling on Opening Day, has been a key to the fast start. The right-hander has been electric in his last two starts. He broke Hall of Famer Nolan Ryan's team record for consecutive single-game strikeouts with nine against the Royals on April 11. He has 27 strikeouts in his first three starts, eclipsing the mark Ryan set in 1989
In his last two appearances, deGrom is 1-0 with a 2.08 ERA, 20 strikeouts, two walks and a .191 opponent's batting average.
"He just has this amazing command with the kind of stuff he has," Texas manager Bruce Bochy said. "You just don't see it. He's special. And that's it. I just enjoy watching Jacob when he pitches."
In two career starts against the Royals, deGrom is 1-0 with a 1.93 ERA. He has fanned 14 and walked two in 14 innings against Kansas City
DeGrom (1-0, 4.32) will be opposed by Kansas City right-hander Jordan Lyles (0-2, 5.19).
Lyles will be making his fourth start and did not factor into the decision in his last start, which came against Texas on April 11 when he allowed four runs on eight hits with four strikeouts in 6 1/3 innings. Lyles has pitched at least five innings in eight of his last 10 starts.
In 13 career appearances against the Rangers, Lyles is 2-6 with a 6.21 ERA. He pitched for the Rangers in 2020 and 2021
The Royals have been having trouble scoring runs. They are 2-for-17 with runners in scoring position over the last two games and rank 29th in the league with a .616 OPS. But they battled back to tie the game with the Braves in the eighth inning on Sunday before surrendering the lead in the ninth
"Showing fight was good," said Kansas City first baseman Vinnie Pasquantino, who delivered the game-tying home run in the seventh inning. "We're all disappointed with the result, felt like we were coming back in that game and let it slip away."
Texas second baseman Marcus Semien has been hot. He was 2-for-5 with a game-changing grand slam in Sunday's 9-1 win. He has multiple hits in four of the last seven games. Semien is 5-for-12 with five RBIs and four runs scored in the first three games of the road trip.
The Royals put left-hander Kris Bubic on the 15-day injured list with a left flexor strain and recalled left-hander Josh Taylor from Triple-A Omaha. Taylor, acquired in a trade with Boston in the offseason, pitched a scoreless inning against the Braves on Sunday
--Field Level Media