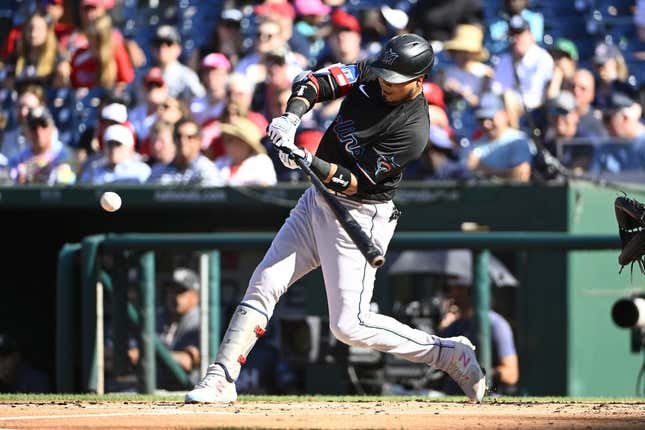 Jake Burger homered twice and pitcher Johnny Cueto won for the first time with the Miami Marlins in Saturday's 11-5 victory against the host Washington Nationals.
How running an NFL team is like running a restaurant | Chef Emeril Lagasse
Jesus Sanchez and Bryan De La Cruz both swatted three-run homers for the Marlins (69-67), who've won the first three games of the four-game series.
Cueto pitched for the first time since Aug. 15 as he was activated from the 15-day injured list. He picked up his first victory since last October with the Chicago White Sox.
Cueto (1-3) notched a victory with his fifth different major league team. He worked five-plus innings, taken out after Lane Thomas' homer to lead off the sixth. Geoff Hartlieb threw three shutout innings in relief, allowing one hit.
De La Cruz and Luis Arraez both went 4-for-5 as the Marlins compiled 18 hits. Sanchez had three hits and Xavier Edwards joined Burger with two hits.
Nationals starter Trevor Williams (6-9) was the losing pitcher vs. Miami for the second time in seven days. He allowed nine runs (eight earned) and 12 hits in four innings.
Dominic Smith and Thomas hit solo home runs for Washington (62-75), which lost its fourth straight game.
Burger, who has three home runs across the first three games of the series, has reached the 30-homer mark for the season. The first 25 homers came with the Chicago White Sox before a trade to the Marlins.
Arraez supplied Miami's second run with a second-inning single. Washington's Riley Adams ripped an RBI double in the bottom of the inning.
Burger's second homer came in the third inning before Sanchez launched his 11th home run of the season later in the inning. Those blasts gave Miami a 6-1 lead.
De La Cruz tacked on his 17th homer in the fourth.
Smith, who had an RBI double in the ninth, upped his homer total to seven. Thomas has 22 homers. Jake Alu had two hits for Washington, while teammate Amos Willingham threw three shutout innings for the Nationals' bullpen.
—Field Level Media