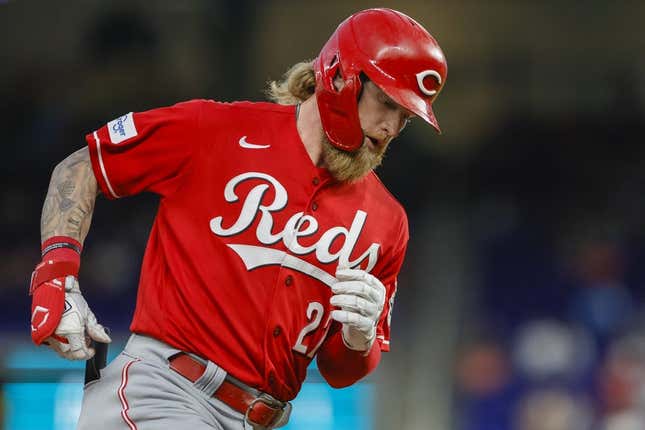 Jake Fraley homered twice -- including a go-ahead, three-run shot in the ninth inning -- to lead the visiting Cincinnati Reds to a 7-4 win over the Miami Marlins on Friday night
'Soccer fandom is full of gatekeepers' says Ted Lasso actor Brendan Hunt
Fraley went 2-for-4 with three runs and four RBIs. It was his first career multi-homer game, and he doubled his dinger output for the season from two to four.
The Reds entered the night ranked 28th in the majors in homers, but they went deep three times Friday, including a shot by Tyler Stephenson
Marlins right-hander Eury Perez made his major league debut, allowing four hits, two walks and two runs in 4 2/3 innings. Perez, a consensus Top-10 prospect in all of baseball, struck out seven but allowed solo homers to Stephenson and Fraley
Like Perez, Reds starter Graham Ashcraft got a no-decision. In 5 2/3 innings, Ashcraft allowed four runs (three earned) on six hits, walked two and struck out three. Like Perez, Ashcraft allowed two solo homers as Jazz Chisholm Jr. and rookie Peyton Burdick connected for Miami
Dylan Floro (2-2) took the loss after allowing Fraley's homer in the ninth.
Reds reliever Ian Gibaut (2-0) earned the win and Alexis Diaz notched his eighth save in eight tries
Cincinnati opened the scoring in the fourth as Stephenson homered on a 97-mph Perez fastball.
Miami tied the score with an unearned run in the bottom of the fourth. Luis Arraez reached on Spencer Steer's fielding error and scored on Bryan De La Cruz's one-out double to left-center. Fraley overthrew the cutoff man, allowing Arraez to score from first.
The Reds went back on top 2-1 in the fifth as Fraley homered on a first-pitch fastball clocked at 96 mph
Miami took a 3-2 lead in the bottom of fifth. Joey Wendle tripled when right fielder Wil Myers lost the ball behind him in the lights. Wendle then scored on a passed ball. Chisholm capped the rally by pulling a homer to right.
In the sixth, Burdick's solo homer gave the Marlins a 4-2 lead. Burdick's shot was the longest of the night, going 425 feet to left-center
Cincinnati tied the score 4-4 in the seventh off reliever Tanner Scott. Stuart Fairchild singled and Jose Barrero walked to start the rally. Steer made up for his earlier error with a two-out, two-run double down the left-field line.
The Reds rallied again in the ninth as Fairchild and Barrero singled ahead of Fraley's 392-foot shot to right-center for the game-winning blast
--Field Level Media