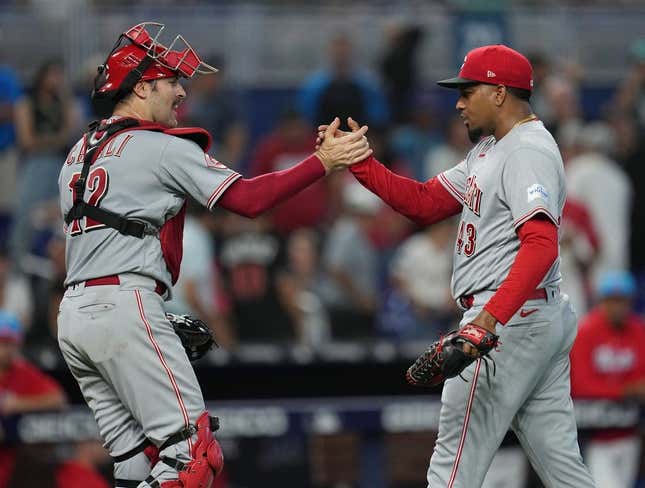 Henry Ramos doubled off the center-field wall to bring home the go-ahead run in a three-run eighth inning and the Cincinnati Reds held on to defeat the host Miami Marlins 6-5 on Saturday afternoon
Chris Paul should ride the bench next season | Keep it a Buck(et)
Jake Fraley went 2-for-4 with four RBIs and a stolen base to lead Cincinnati to its third straight win and fifth in their last seven contests. Fraley slugged a three-run homer in the fifth inning, his third homer in two games and fifth on the season. He has more home runs in the first two games of the series than in his first 33 games this season.
Miami right fielder Jesus Sanchez left the game in the first inning with a sore hamstring and center fielder Jazz Chisholm Jr. ran into the fence and limped off the field as he failed to catch Ramos' eighth-inning drive.
Chisholm hit a home run in his second straight game and Bryan De La Cruz also homered for Miami. After an MLB-record 12-0 start to the season in one-run games, the Marlins finally dropped one
The Marlins' Sandy Alcantara, the reigning National League Cy Young Award-winner, took the loss. Alcantara (1-4) is winless in six straight starts, allowing seven hits, two walks and six runs in 7 2/3 innings. He struck out nine batters and lowered his ERA to 4.91
Cincinnati, which scratched starter Nick Lodolo due to a calf injury, used seven pitchers to earn the victory. Alexis Diaz earned his ninth save in nine tries. Reds reliever Casey Legumina left the game in the eighth inning due to a right-foot injury
Miami opened the scoring in the fourth inning on an RBI single from Yuli Gurriel before Cincinnati took a 3-1 lead in the fifth on Fraley's three-run blast.
De La Cruz hit a solo homer in the sixth for the Marlins and Chisholm tied the score 3-3 in the seventh with his own homer
Later in the seventh, Miami took a 4-3 lead on rookie Peyton Burdick's RBI single before the Reds rallied for three runs in the eighth to take a 6-4 lead. The first of the three runs came on a single from Fraley, while Ramos' double put the Reds in front. Stuart Fairchild's RBI single capped the rally
Miami closed the gap in the ninth when Jorge Soler walked and scored on Luis Arraez's double. But Diaz struck out Gurriel with the bases loaded to end the game.
--Field Level Media