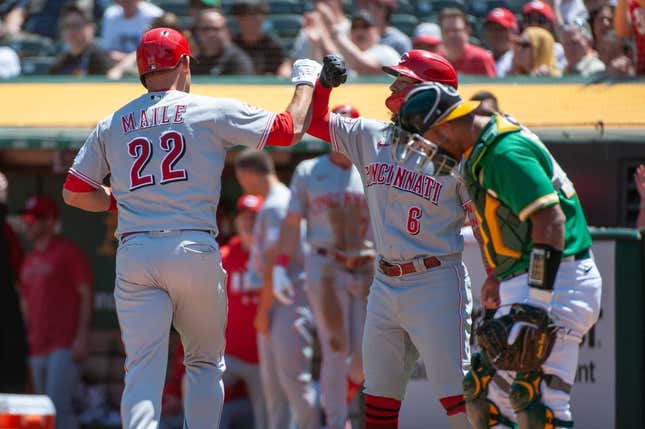 Jake Fraley's bases-loaded, two-out line drive hit first base and bounced over the head of Ryan Noda for a go-ahead, two-run single in the top of the ninth inning Saturday afternoon, delivering the visiting Cincinnati Reds from the jaws of defeat to a 3-2 victory over the host Oakland Athletics
'Soccer fandom is full of gatekeepers' says Ted Lasso actor Brendan Hunt
Luke Maile homered for the Reds, who had trailed 2-1 from the third inning until Fraley's difference-making hit in the ninth
Pitching in just his third major-league game, Casey Legumina (1-0) was rewarded for a scoreless eighth inning with his first big-league win. Alexis Diaz threw a 1-2-3 ninth with all strikeouts for his fourth save.
The loss was the fifth straight overall and ninth in a row at home for Oakland, which took a 2-0 lead in the second on consecutive RBI singles by Aledmys Diaz and Jordan Diaz. An inning-opening error by Reds third baseman Nick Senzel had set the stage for the scoring, resulting in two unearned runs on the ledger of starter Hunter Greene
The Reds, who bombed A's pitching in an 11-7 win in the series opener Friday, got one of the runs back immediately when Maile launched his first home run of the season to left field leading off the third
But Muller and three relievers put up all zeroes from there until walks to Henry Ramos and Senzel, sandwiching an infield single by Kevin Newman, loaded the bases with one out in the ninth against Jeurys Familia (0-1).
The Oakland closer struck out Jose Barrero to get within one out of his third save, but Fraley then caught a break when his broken-bat liner short-hopped the new, bigger first base and easily eluded the awaiting Noda.
Neither starting pitcher got a decision despite pitching well.
Seeking his first victory for the A's, Muller limited the Reds to just one run and five hits in five innings. He walked two and struck out three
Greene was even more impressive, with both of the runs he allowed being unearned. He also gave up five hits and walked three, but recorded strikeouts for 10 of his 15 outs.
Spencer Steer had a single and a double for the Reds, who have ripped off five straight wins after a 7-15 start
Jordan Diaz had two hits for the A's, who were out-hit 9-7.
--Field Level Media