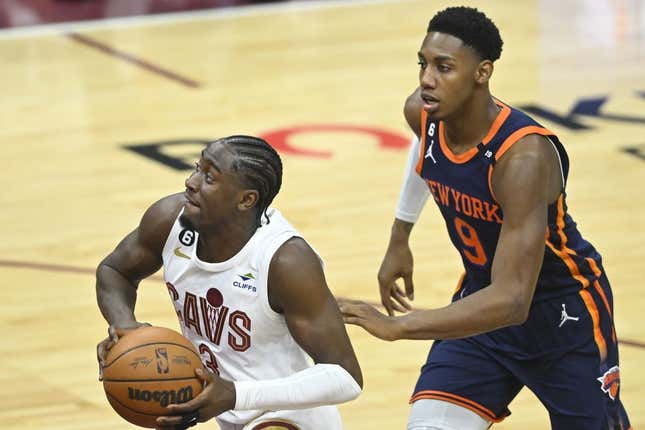 Jalen Brunson scored 21 points in the second half Saturday night for the visiting New York Knicks, who rebounded with a late surge to edge the Cleveland Cavaliers 101-97 in Game 1 of an Eastern Conference quarterfinal series
Are the Oakland A's a failed state? | Agree to Disagree
The Knicks were forced to rally back after squandering a 10-point fourth quarter lead. Brunson finished with a team-high 27 points
Game 2 is Monday night in Cleveland.
Josh Hart (17 points, 10 rebounds) posted a double-double off the bench and scored the go-ahead 3-pointer with 1:49 left for the fifth-seeded Knicks, who are in the playoffs for the second time in three years. Julius Randle, who missed the final five games of the regular season with a sprained left ankle, also had a double-double (19 points, 10 rebounds)
Donovan Mitchell had 38 points and eight assists for the fourth-seeded Cavaliers, who are in the playoffs without LeBron James for the first time since 1998. Jarrett Allen (14 points, 14 rebounds) recorded a double-double while Darius Garland finished with 17 points
Brunson picked up three early fouls and was limited to six points in nine minutes in the first half. But the Knicks faced only a trio of two-point deficits and led by as many as 12 before carrying a 50-45 lead into the half
The teams were tied three times in the opening minutes of the third before Obi Toppin scored seven points during a 17-8 run that gave the Knicks a 78-67 lead with a minute left in the period
The Cavaliers didn't get closer than six points until they mounted a 9-0 run and took a 93-92 lead on Allen's putback with 2:12 left in the fourth
Hart hit a 26-footer out of a timeout, after which Mitchell missed a 3-pointer. Brunson then hit a stepback from the foul line to extend the Knicks' lead to 97-93
Mitchell responded with a pair of free throws and Hart missed a jumper, but Isaiah Hartenstein tapped out the rebound and Brunson hit a floater to put New York up 99-95.
After a Cavaliers timeout, Allen dunked with 31.6 seconds left
Brunson missed a long jumper, but Randle grabbed the rebound and kicked out to Quentin Grimes, who iced the win by draining a pair of free throws with 4.3 seconds left.
--Field Level Media