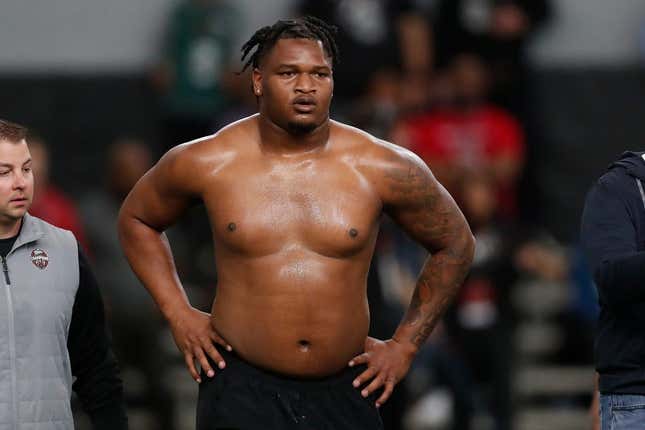 Jalen Carter is only visiting teams with picks in the top 10 of this month's NFL draft, as his agent is positive the former Georgia defensive tackle will be selected early despite his legal issues and shaky pro day.
Bass' ERA stinks, but not compared to who he is off the mound | Worst of the Week Countdown
Carter was a presumed lock to be one of the first two non-quarterbacks selected, along with Alabama's Will Anderson Jr., but that was before his connection to a fatal car crash surfaced.
Carter pleaded no contest to misdemeanor charges of reckless driving and racing last month in the crash that killed Bulldogs teammate Devin Willock and Georgia recruiting staffer Chandler LeCroy. Carter first told police he wasn't involved at all.
Further, Carter weighed in nine pounds heavier (323) at his pro day than his weigh-in at the scouting combine just days earlier. He was unable to finish the drills due to cramping and breathing heavily, per multiple reports.
"I'm confident Jalen will go in the top 10," agent Drew Rosenhaus told ESPN. "He's a good person, a family man, loves football and is a generational talent."
Carter is visiting the Chicago Bears on Monday -- his second with the team -- after also visiting the Philadelphia Eagles. The Bears pick ninth and the Eagles 10th. Four QBs are expected to be taken with the first few picks.
Carter was arrested and booked during the week of the combine in connection with the Jan. 15 fatal crash. He was sentenced to 12 months of probation and 80 hours of community service.
The 6-foot-3 Carter was a unanimous All-American in 2022 and led the Bulldogs to back-to-back College Football Playoff championships.
--Field Level Media