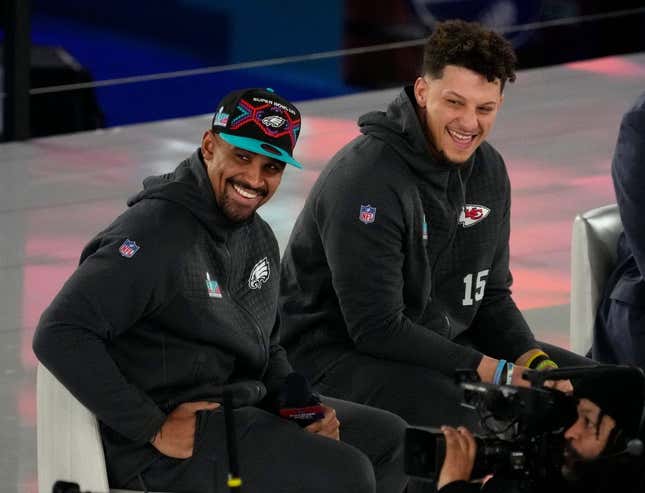 The Philadelphia Eagles selected Jalen Hurts in the second round of the NFL draft on April 24, 2020. Three years later to the day, they introduced Hurts as the highest-paid quarterback in NFL history
Hurts, 24, met the media for about 20 minutes on Monday, his first public comments after signing a five-year, $255 million extension last week. His deal includes $179.3 million in total guarantees.
In answering a question about how the contract felt, Hurts gave an answer that will echo with Eagles' fans for a long time
"Money is nice, championships are better," Hurts said, adding that the contract a "point in the journey," not his arrival.
He thanked the Eagles for drafting him and putting him in position to lead the team and the city
"Three years ago today, shocking the world and taking a kid from Oklahoma. I know a lot of people didn't understand at the time but it happens," Hurts said.
Hurts tops the $230 million contract the Cleveland Browns gave quarterback Deshaun Watson last year. Only Watson ($230M), Broncos quarterback Russell Wilson ($196M) and Cardinals quarterback Kyler Murray ($189.5M) received more guaranteed money in a single contract than Hurts.
Hurts also was asked why he didn't push for a fully guaranteed contract, a la Deshaun Watson in Cleveland, or what Lamar Jackson is reportedly seeking with Baltimore.
"You look at all the great teams and great players, it takes a village," Hurts said. "We got something special going on. We all wanna do it for a long time, so that was important to me to take that approach with it."
He was later asked about his contract in contrast to other guys on the team who either don't have a long-term deal and certainly won't come close to his.
"I wanna win," Hurts said. "It's kinda awkward sitting here talking about that anyways, talking about money and all that. I'm a southern boy. But I love football. This is my life. ... I know this is a building full of hungry individuals that are willing to do everything that needs to be done to win. I'm grateful to lead their path."
Hurts piloted the Eagles to the Super Bowl last season, where they lost to the Kansas City Chiefs
A second-round pick drafted to be the backup to Carson Wentz, Hurts is 23-11 as the starter in three seasons (45 games) in Philly.
He has completed 62.3 percent of his passes for 7,906 yards and 44 touchdowns against 19 interceptions. He's also rushed for 1,898 yards and 26 TDs.
Hurts has led the Eagles to back-to-back playoff appearances
--Field Level Media