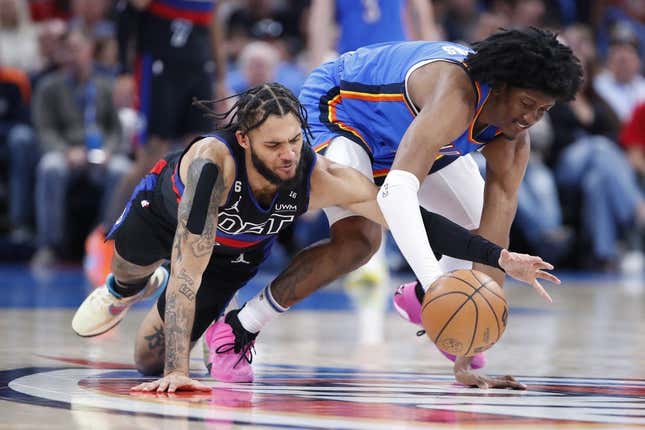 Jalen Williams scored 27 points, including the game-winner at the buzzer, to lead the Oklahoma City Thunder to a 107-106 win over the visiting Detroit Pistons on Wednesday
Does Jimmy Butler have the best NBA Finals origin story? | Agree to Disagree
The victory, the Thunder's second in five games, kept Oklahoma City (38-39) in the 10th spot in the Western Conference
The Pistons have lost seven consecutive games and 18 of their last 19
After chasing down the ball in the corner following a jump ball with 7.3 seconds left, Josh Giddey drove along the baseline before lofting a floater that bounced off the opposite side of the rim, where it was scooped up by Williams, who converted the putback to keep the Thunder in position to make the play-in tournament
Without Shai Gilgeous-Alexander for the second consecutive game, Oklahoma City had to rely on a balanced attack.
Luguentz Dort added 20 points, Aaron Wiggins scored 19 off the bench on 8-of-11 shooting and Giddey scored 18.
Williams was 11-for-19 from the field.
The Thunder got big plays on both ends of the floor in the closing minutes
With just over two minutes to go and the game tied, Dort drove hard to the basket, finishing off a layup after being fouled by Eugene Omoruyi.
On the next possession, the Thunder's Jaylin Williams stepped in front of Pistons guard Jaden Ivey and drew his third charge of the game, raising his NBA-leading total to 38
But the Pistons weren't done
Cory Joseph drained a 3-pointer with 14.6 seconds left to put Detroit on top 106-105 and on the cusp of its first road victory since Jan. 26.
Giddey drove to the lane on the next possession, spinning to his right and then to his left before losing the ball.
Dort wrestled for the ball with a pair of Pistons, sending a shot through the basket just after officials called for the jump ball that ultimately led to Jalen Williams' game-winner
Ivey led the Pistons (16-60) with 24 points
Detroit's Killian Hayes left the game with just over four minutes remaining after landing awkwardly after a shot.
Hayes tried to stand up immediately after hitting the floor, but his legs gave out.
--Field Level Media