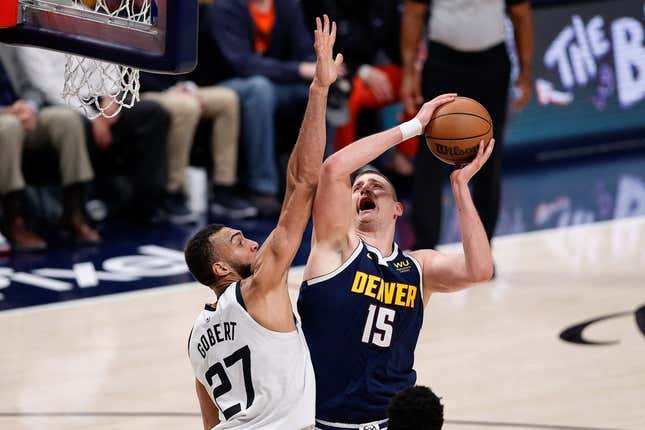 Jamal Murray scored 40 points, Nikola Jokic had 27 points, nine rebounds and nine assists and the host Denver Nuggets beat the Minnesota Timberwolves 122-113 in Game 2 of their first-round Western Conference playoff series on Wednesday
'Soccer fandom is full of gatekeepers' says Ted Lasso actor Brendan Hunt
The Nuggets lead the series 2-0 heading to Game 3 in Minneapolis on Friday
Michael Porter Jr. scored 16 points, Aaron Gordon had 12 points and 10 rebounds and Jeff Green finished with 11 points for Denver.
Anthony Edwards had a franchise-playoff-record 41 points for the Timberwolves, hitting 14 of 23 shots, including 6 of 10 from 3-point range. Rudy Gobert scored 19 points, Mike Conley had 14 points, Taurean Prince put up 12 points, Karl-Anthony Towns contributed 10 points and 12 rebounds and Kyle Anderson also had 10 points
Minnesota scored 40 points in the third quarter to lead 89-87 entering the fourth. Denver went on an 8-0 run to open the final quarter, grabbing a 95-89 lead, but Edwards had seven points in a 10-3 surge to put the Timberwolves in front 99-98 with 6:55 to go
Porter answered with a 3-pointer, Minnesota missed its next three shots and three Nuggets free throws made it 104-99 with 5:33 remaining
Conley hit a running bank shot, but Jokic fed Gordon on an alley-oop and Porter sank a mid-range jumper to make it 108-101.
Edwards hit two free throws before Murray drained another 3-pointer and a 12-footer to make it a 10-point game with 3:14 left.
Conley and Edwards made 3-pointers to get Minnesota within 115-109 before Murray answered with one from deep. Edwards hit a 20-footer, but another Jokic-Gordon alley-oop sealed it.
The Nuggets led by as many as 21 in the second quarter before Minnesota chipped away and got within 64-49 at halftime
Murray's layup with 9:41 left in the third gave Denver a 70-55 lead before the Timberwolves went on a 14-0 run
Towns hit a 3-pointer, Gobert had two dunks and Edwards scored five points during the surge that made it a one-point game. The Nuggets had two layups to go up by five, but Minnesota's 10-5 run tied it at 79
After Jokic split a pair of free throws, Anderson's dunk gave the Timberwolves their first lead since the first quarter
--Field Level Media