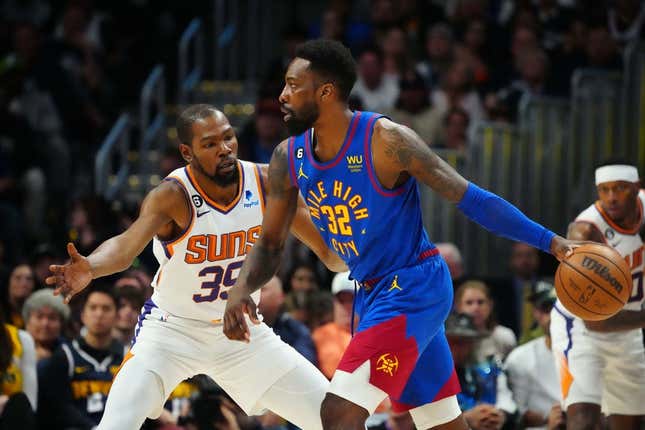 Jamal Murray scored 20 of his game-high 34 points in the second half and added nine assists, Nikola Jokic had 24 points and 19 rebounds, and the host Denver Nuggets beat the Phoenix Suns 125-107 in Game 1 of the Western Conference semifinals on Saturday night
Aaron Gordon scored 23 points, Bruce Brown finished with 14 points off the bench, Michael Porter Jr. added 11 points and Kentavious Caldwell-Pope scored 10 for the Nuggets in taking the 1-0 series lead
Game 2 is Monday night in Denver, where the Nuggets have yet to lose in this year's playoffs
Kevin Durant had 29 points, 14 rebounds and seven turnovers, Devin Booker scored 27 points and had eight assists, Deandre Ayton had 14 points and seven rebounds and Chris Paul added 11 for the Suns
Phoenix trailed by 15 early in the fourth quarter but cut it to 10 with Durant getting a rare rest. Gordon and Murray hit layups to extend the lead to 106-92 with 8:21 remaining.
Booker converted a three-point play but Murray answered with two from deep to restore Denver's 17-point lead and force a Suns timeout
Paul missed a corner 3-pointer out of the timeout and the Nuggets began to pull away. Jokic scored on a finger roll, fed Brown for a dunk, and then Brown stole the ball from Durant and dunked again to put Denver ahead 118-95 with 5:09 left
The teams emptied the benches for the final minutes.
The Suns led 32-31 after the first quarter behind 15 points from Durant but he was held to just four in the second quarter
Booker's layup with 9:46 left in the period put Phoenix ahead 39-38 but the Nuggets went on a 13-2 run to lead by 10. After the Suns cut the lead to six, Caldwell-Pope hit two from deep and Gordon made one from behind the arc to spark a 17-6 run to end the half and give Denver a 68-51 lead
Phoenix got within 11 early in the third but a pair of 3-pointers from Murray made it 83-66, and the Nuggets took a 94-81 lead into the fourth
--Field Level Media