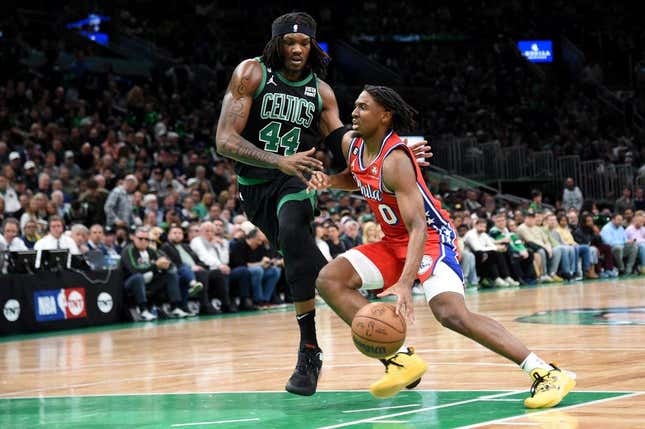 James Harden tied his career playoff high by scoring 45 points to help the visiting Philadelphia 76ers defeat the Boston Celtics 119-115 in Game 1 of the Eastern Conference semifinals on Monday night
'Soccer fandom is full of gatekeepers' says Ted Lasso actor Brendan Hunt
Harden made 17 of his 30 field-goal attempts, including 7 of 14 from behind the 3-point arc. It was the 10th playoff game in which Harden has scored at least 40 points.
Harden's 3-pointer with 8.4 seconds to play gave the third-seeded 76ers a 117-115 lead. Jayson Tatum was called for a foul on the ensuing possession, and then Paul Reed capped the scoring by making two free throws with 4.6 seconds left. Philadelphia closed the game with a 12-4 run
The 76ers played without Joel Embiid, who sustained a sprained LCL in his right knee during Game 3 of Philadelphia's first-round sweep of Brooklyn. Embiid led the NBA by averaging 33.1 points per game during the regular season
Tatum led the second-seeded Celtics with 39 points and 11 rebounds. Boston received 23 points from Jaylen Brown, and 20 from Malcolm Brogdon
Tyrese Maxey added 26 points for the 76ers, who received 10 points and 13 rebounds from Reed
The Celtics made 17 of their 18 free-throw attempts. Philadelphia was 12-for-12 from the free-throw line
Boston trailed 19-13 midway through the first but went on an 11-0 run to take a 24-19 lead with 4:37 left in the quarter. The Celtics made 17 of their 20 shots from the field in the period and led 38-31 entering the second. Boston connected on 14 of its first 15 field goal attempts
The Celtics were up 62-50 -- their largest lead of the game -- with 3:31 to play in the second, but Philadelphia closed the first half on a 13-4 run and trailed 66-63 at halftime
The game was tied, 87-87, entering the final 12 minutes.
Game 2 of the best-of-seven series will be played Wednesday night in Boston.
--Field Level Media