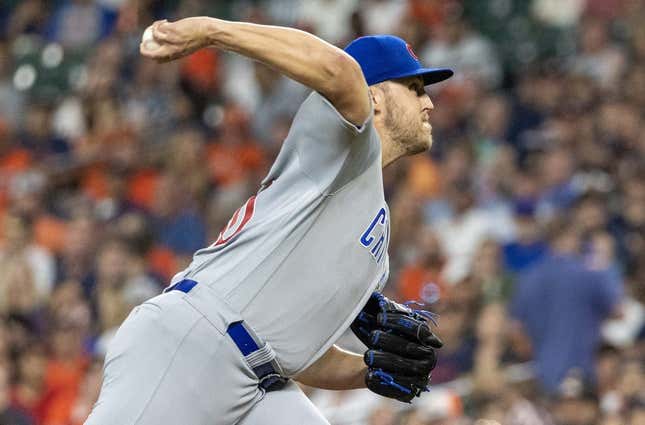 Chicago Cubs right-hander Jameson Taillon expects to be around for the long haul when he takes the mound against the host Philadelphia Phillies in the second game of a three-game series on Saturday
Bass' ERA stinks, but not compared to who he is off the mound | Worst of the Week Countdown
Pitching deep into games has eluded the right-hander through six starts this season, however.
Taillon (0-2, 6.66 ERA) went deep into starts fairly regularly for the New York Yankees last season, pitching at least six innings in 13 of 32 starts, helping him finish 14-5 with a 3.91 ERA.
The 31-year-old veteran threw five shutout innings against the Los Angeles Dodgers on April 15, matching his longest outing of the year, and appeared to be ramping up for an even longer outing. However, he went on the injured list with a groin injury shortly afterward.
After missing nearly three weeks, Taillon has thrown a combined 10 1/3 innings over his past three starts, posting a 9.58 ERA in that span.
"I definitely pride myself in being able to go deep in games," Taillon said. "I feel like that's something that makes me valuable is that I can help the bullpen and find a way to settle in and make adjustments and go deep."
Taillon is not only still looking for his first win with Chicago, but the Cubs are looking for their first victory when he starts a game (0-6)
They should feel confident after ending a five-game losing streak with a 10-1 win against the Phillies in the series opener on Friday night
Philadelphia saw its losing streak reach five games overall and seven straight against the Cubs
The Cubs have been monitoring Taillon's workload in the three games since he returned from the groin injury
"Going forward, I'd obviously love the opportunity to get guys out and go as deep as I can, but also I understand the matchups and what the sheets say, and my injury and what I'm building back off of," he said.
Taillon has made five career starts against the Phillies, going 1-2 with a 6.86 ERA
Aaron Nola (3-3, 4.53 ERA) is scheduled to take the mound for Philadelphia.
The 29-year-old right-hander allowed four runs and six hits over seven innings in his latest outing but did not receive any run support in a 4-0 loss the Colorado Rockies on Sunday in Denver. The defeat prevented Philadelphia from recording its first sweep of a series longer than two games this season.
"I thought Nola was fantastic," Phillies manager Rob Thomson said. "He only gave up a couple of hard hits all day.
Nola is 4-2 with a 4.74 ERA in seven starts in his career against the Cubs. Yan Gomes is 6-for-19 (.316) with two home runs in his career against Nola
The Phillies hope shortstop Trea Turner can emerge from his power slump
Turner, who signed an 11-year, $300 million contract in the offseason, went 0-for-4 in the series opener as his average dipped to .257. He had six hits in the previous four games, but he has no homers and one RBI in his past 10 games.
Thomson said, "You see that a lot when a player comes to a new town, new contract, new teammates, new fanbase. I think he's trying to do too much and he just needs to slow it down."
--Field Level Media