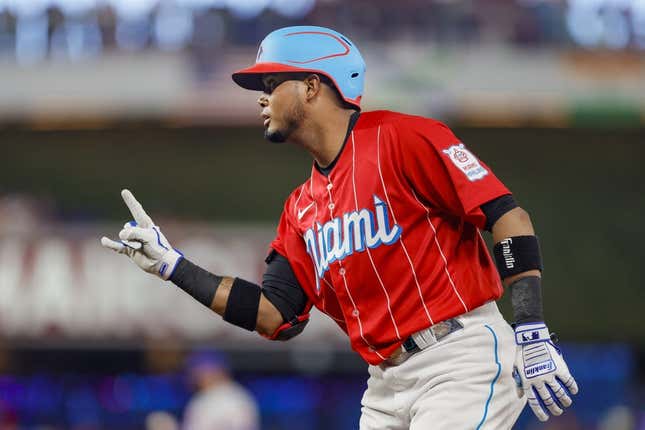 The two main participants in one of the offseason's biggest trades square off Wednesday afternoon when the visiting Minnesota Twins face the Miami Marlins in the rubber game of their three-game series
'Soccer fandom is full of gatekeepers' says Ted Lasso actor Brendan Hunt
Right-hander Pablo Lopez (1-0, 0.00 ERA), obtained from the Marlins on Jan. 20 along with two prospects for reigning American League batting champion Luis Arraez, will start for Minnesota. He be opposed by left-hander Jesus Luzardo (1-0, 0.00 ERA)
Lopez went 28-31 with a 3.94 ERA in 94 starts over five seasons with the Marlins, including 10-10 with a 3.75 ERA in 2022. He allowed two hits and three walks to go with eight strikeouts over 5 1/3 scoreless innings during his Minnesota debut, a 2-0 victory at Kansas City on Thursday
The Twins, in need of a top-of-the-rotation starter, decided to deal the popular Arraez to the hitting-starved Marlins
Arraez, who hit .316 last season, became just the third player traded in the divisional era (since 1969) after winning a batting title the previous season, joining Bill Madlock (1976, Cubs to Giants) and Rod Carew (1978, Twins to Angels)
There is no bad blood between the two players, however. In fact, Lopez and Arraez were teammates on Team Venezuela in the World Baseball Classic.
"It's going to be a fun game," Lopez said. "We talked about it during the WBC not knowing if it was going to happen but if it did happen that it was going to be just a healthy competition and just enjoy it. ... I think it's going to be fun."
Arraez is off to a hot start with Miami, batting .478, which ranks fourth in the National League.
"I still love my guys," Arraez said. "I still love Minnesota. I miss a lot of my guys over there. I still talk to my guys there."
"He means a lot to us," Twins shortstop Carlos Correa, who said he still talks almost daily with Arraez, told twincities.com. "With the game on the line, he was the one we wanted at the plate. Obviously, we miss him, but at the same time, we understand how business works, and we got a good pitcher in Pablo.
Minnesota, behind home runs by Max Kepler, Joey Gallo, Trevor Larnach and Ryan Jeffers and a strong start by right-hander Tyler Mahle, won the opening game of the series 11-1 on Monday.
The Marlins bounced back behind reigning NL Cy Young Award winner Sandy Alcantara to even the series on Tuesday with a 1-0 victory
Alcantara scattered three singles and a walk while striking out five en route to his fourth career shutout. Avisail Garcia homered in the second inning for the lone run of the game.
"It feels great," Garcia said of his game-winning hit. "Anytime you help the team win, I think you feel good about it. Sandy pitched an unbelievable game as always. I'm glad I hit a homer for Sandy to win the game."
Luzardo was also impressive in his first start, allowing just two hits over 5 2/3 shutout innings in a 2-1 win over the New York Mets on Friday. He is 1-0 in one career start against the Twins, having allowed two hits over 5 1/3 shutout innings in a 1-0 victory while with the Oakland A's in April 2021
--Field Level Media