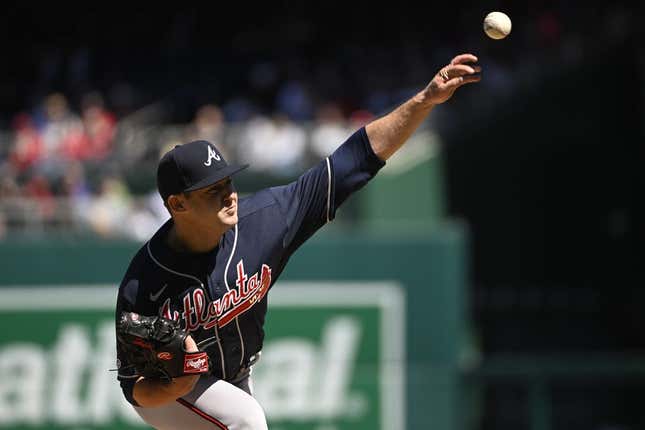 Jared Shuster is the Atlanta Braves' top prospect, but his major league debut on Sunday didn't go according to hopes
Chris Paul should ride the bench next season | Keep it a Buck(et)
The 24-year-old left-hander, who was the Braves' first-round draft pick (25th overall) in 2020, gave up four runs on six hits and five walks, with one strikeout, in 4 2/3 innings during a 4-1 loss against the Washington Nationals. That game was Atlanta's only loss this season
Following that contest, the Braves optioned Shuster to Triple-A. However, he was recalled to Atlanta on Thursday, and he will make a second start on Friday against the visiting San Diego Padres in the second game of a four-game series
Already without Max Fried, who went on the injured list after sustaining a left hamstring strain in the season opener, the Braves placed right-hander Collin McHugh on the injured list due to right shoulder inflammation on Thursday. That move allowed them to bring back Shuster
Braves manager Brian Snitker didn't call this a second chance for Shuster (0-1, 7.71 ERA)
"He just needs to rebound from the first inning of his first start," Snitker said. "That inning didn't go well. After that he threw up zeros."
Shuster will be paired against Padres right-hander Nick Martinez (0-1, 5.14 ERA) on Friday. Martinez started the Padres' second game in San Diego on March 31 and gave up four runs on six hits and two walks over seven innings during a 4-1 loss to the Colorado Rockies. He struck out five while throwing 101 pitches
The Padres hope that Martinez can go deep again because their middle relief corps has issues. Nabil Crismatt, who took the loss in the series opener on Thursday, has a 16.20 ERA after three appearances. Luis Garcia has a 15.43 ERA over three appearances
"It seems like every day, we're down a couple guys in the bullpen," said Padres manager Bob Melvin, who opened the season with a seven-man bullpen and without starters Joe Musgrove and Yu Darvish. "You're not going to push your starter to 110 pitches this early in the season.
Musgrove (fractured left big toe) made what might be his only rehab start for Triple-A El Paso on Thursday night. He gave up three runs (two earned) on five hits in 4 1/3 innings, striking out six and walking one.
Darvish pitched five innings of one-run ball in his season debut on Tuesday against the Arizona Diamondbacks.
"Until we get Musgrove back and finish this run (of 24 games in 25 days), we're going to use a six-man rotation and the bullpen is going to be problematic," Melvin said.
For the moment, however, two pitchers the Padres view as length options in the bullpen -- Seth Lugo and Ryan Weathers -- are in the rotation
That handicaps the bullpen against an offense that Melvin respects.
"Atlanta has a deep lineup, through and through," he said. "They have protection behind Matt Olson. It's a really good team. We have to play our best baseball to win. They are an aggressive hitting team. They're not going walk as much as some of the other teams in the league. They hit the fastball really well. It's kind of a relentless lineup and it's deep, too. It's going to be a challenge for us. We have a pretty good team, too."
--Field Level Media