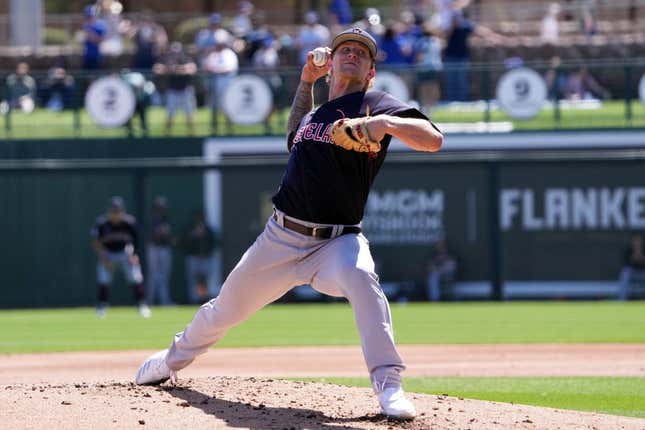 Sticking with an up-the-middle hitting approach is paying off for Seattle Mariners outfielder Jarred Kelenic
Bass' ERA stinks, but not compared to who he is off the mound | Worst of the Week Countdown
In his last three games, Kelenic is 5-for-10, and the Mariners are hoping the 23-year-old can stay hot on Sunday in the three-game series finale against the host Cleveland Guardians
Kelenic was 3-for-4 with an RBI and a stolen base in Seattle's 3-2 win on Saturday.
"It's really just trying to get comfortable is the biggest thing," Kelenic said postgame on Mariners radio Saturday. "Just sticking to what I worked on with the coaches I worked with all offseason. It's just translating nicely. I just want to keep doing it, and try to help the team win.
The Mariners have 21 hits in the first two games at Cleveland, including 11 on Saturday. While they scored just three runs, they kept constant pressure on the Guardians' pitchers
"You're just trying to move the runner at least one, and got the job done," Kelenic said. "We passed the baton really, really well. We had a lot of guys with a lot of hits. We had a lot of walks as well. Any time you can pass the baton, odds are, you are going to win the game."
In the series finale, right-hander George Kirby (0-1, 8.31 ERA) gets the start for Seattle. The Guardians counter with right-hander Zach Plesac (0-0, 54.00)
Kirby, in his second season, made a start against the Guardians in 2022 and went three innings, allowing one run in a no-decision
Plesac, making his third career start against Seattle, won each of his first two meetings, posting a 3.00 ERA in 15 innings.
The Guardians and Mariners have played six times since Opening Day, so the clubs are familiar with each other heading into Sunday
Cleveland took three of four at Seattle to open the season, but has dropped the first two at home.
"We had chances," Guardians manager Terry Francona said. "We had runners on, it seemed, all game. Some of that is their pitching getting out of it.
Amed Rosario had three hits for the Guardians on Saturday, and Andres Gimenez added two, extending his hitting streak to eight games
Each of Sunday's starters had underwhelming first outings in 2023.
Against the Los Angeles Angels, Kirby was charged with four runs on nine hits. In 4 1/3 innings, he fanned five.
A pitch that proved costly for the 25-year-old was a changeup that Shohei Ohtani connected on for a home run.
"I'm not going to be scared of him," Kirby said following that game. "I probably just could've let that changeup go down a little bit more. I left it up. But I thought I attacked well. ... Just a couple of pitches I'd like to have back."
Plesac, on the other hand, will be eager to turn the page after his one-plus inning first start, where he gave up six runs on seven hits, including a home run. Despite the forgetful start, Plesac was not involved in the decision, and the Guardians rallied to beat the Oakland Athletics, 12-11, last Monday
"Next man up," Plesac said after that start. "It's always everybody, our whole mentality. It doesn't matter who it is, everybody's always ready to step up. I think that's why we're so good."
--Field Level Media