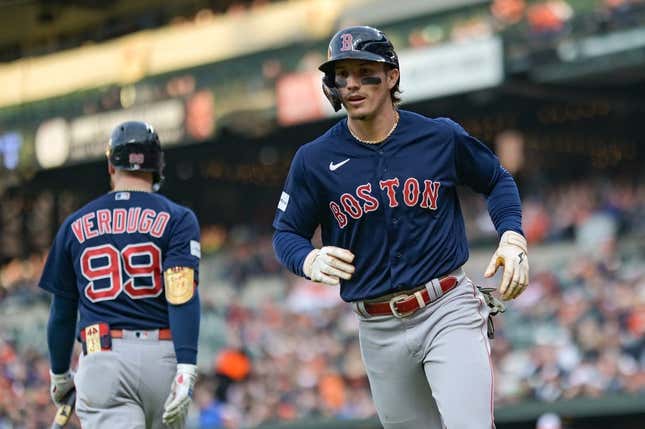 Boston outfielder Jarren Duran looks to continue his strong start to the season when the visiting Red Sox go for a series win against the Baltimore Orioles on Wednesday
Air Jordans are more American than McDonald's French fries | Deon Cole's Ultimate Sports Fantasy
Duran had three hits, including his first career grand slam, as the Red Sox raced out to a 7-0 lead Tuesday and held on for an 8-6 win that snapped Baltimore's seven-game winning streak
In the nine games since being recalled from Triple-A Worcester, the 26-year-old Duran has 12 hits, including five doubles and a homer, to go with 10 RBIs and a .387 batting average. Last season, Duran hit .221 with three homers and 17 RBIs in 58 games.
"Just trying to help the team," Duran said. "That's all I've been trying to do."
The Orioles lost for just the third time in 14 games, but not before they made it interesting. After falling behind 8-1, Baltimore scored five in the ninth, four on Cedric Mullins' grand slam
"That was huge for us to just kind of show where we are as an offense, just be able to continue to chip away in a game that seemed lost, and the next thing we know we're back in the fight and a couple hits away from tying and possibly taking the lead," Mullins said.
Right-hander Tanner Houck (3-0, 4.29 ERA) starts the rubber game for Boston. Seemingly headed for the bullpen when the Sox move away from a six-man rotation, Houck continues to make the case to start. Last time out, he allowed three runs on six hits over seven innings of a win against the Minnesota Twins last Thursday. He struck out seven and walked one.
"He had pretty good command of every pitch. He's got really nasty stuff," teammate Enrique Hernandez said. "From the first inning, something that stood out to me was his sinker against righties ... he had a really good cutter today, and that splitter was really good as well."
Baltimore counters with right-hander Tyler Wells (0-1, 2.70). Wells tossed a career-high seven scoreless innings against the Detroit Tigers in his last start, on Friday. He allowed just three hits while striking out five and walking one in a 2-1 Orioles win
Converted to a starter in 2022, Wells' innings were limited last season and he topped 80 pitches in just eight of 23 starts. He threw 95 pitches against Detroit.
"It's definitely nice this year, being able to let him go pitch," Baltimore manager Brandon Hyde said. "That (process) was something we needed to do last year and had to do and should do. But this year, obviously, the leash is longer, and it's fun to watch him go out there and go as long as he can."
Boston's Kenley Jansen came on to get the final two outs Tuesday night to earn career save No. 397, moving him ahead of Craig Kimbrell for seventh place all time.
Orioles outfielder Austin Hays left the game after bruising his hand on a bunt attempt in the third inning
"We caught a break there with the X-rays being negative, so that's great news," Hyde said after the game. "It's day-to-day. It's obviously really sore. I think we got lucky."
--Field Level Media