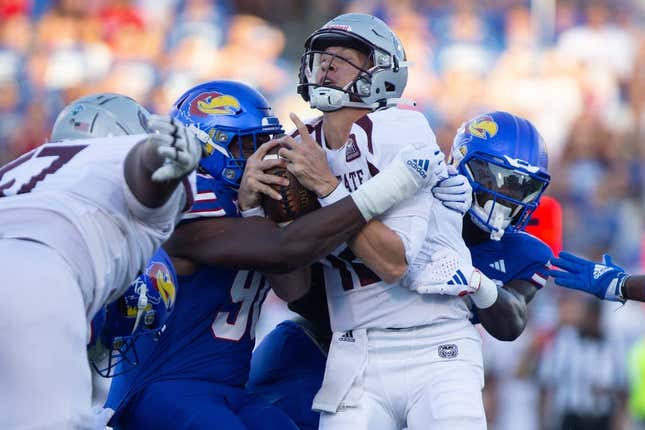 Jason Bean accounted for 317 yards of total offense and passed for two touchdowns and Devin Neal had rushing and receiving scores as Kansas opened the season with a 48-17 rout of Missouri State on Friday in Lawrence, Kan.
How running an NFL team is like running a restaurant | Chef Emeril Lagasse
Kansas outscored Missouri State 31-7 in the second half while outgaining the Bears 521-217 for the game.
Kansas visited the end zone on its first possession of the season, covering 70 yards in four plays and 1:49 after forcing a Bears punt. Bean opened the drive with three straight completions for 22 yards before Neal raced down the right side for a 48-yard touchdown run.
Missouri State tied the game on a 2-yard touchdown pass from Jacob Clark to Jmariyae Robinson with 2:24 left in the first quarter, as the Bears capitalized on a lost Jayhawks fumble.
Kansas then turned the ball over on downs, and Missouri State responded with Owen Rozanc's 37-yard field goal with 12:11 left in the second quarter to take a 10-7 lead.
The Jayhawks regrouped after that, bringing a 17-10 advantage into the half after a 14-yard touchdown pass from Bean to Luke Grimm and Seth Keller's 28-yard field goal.
Kansas opened the second half with a nine-play, 69-yard scoring drive, capped by Dylan McDuffie's 17-yard touchdown run. Keller subsequently added a 35-yard field goal.
The Bears pulled within 27-17 on Robinson's 5-yard touchdown run with 14:57 to go before Kansas scored the game's final 21 points.
Bean connected on 22 of 28 passes for 276 yards and two touchdowns while adding 41 yards on five carries. Neal rushed 13 times for 94 yards and had three receptions for 25 yards.
Kansas' Quentin Skinner and Lawrence Arnold both caught four passes for 77 yards.
Clark was 14-for-21 through the air for 143 yards, one touchdown and two interceptions. Robinson had two total touchdowns, while Raylen Sharpe (five catches, 21 yards) and Celdon Manning (two catches, 31 yards) were the Bears' top targets.
The game marked the head-coaching debut for Missouri State's Ryan Beard, 34. Beard had served as the Bears' defensive coordinator for the past three seasons and was elevated to the head job after Bobby Petrino left the program to become offensive coordinator at Texas A&M.
—Field Level Media