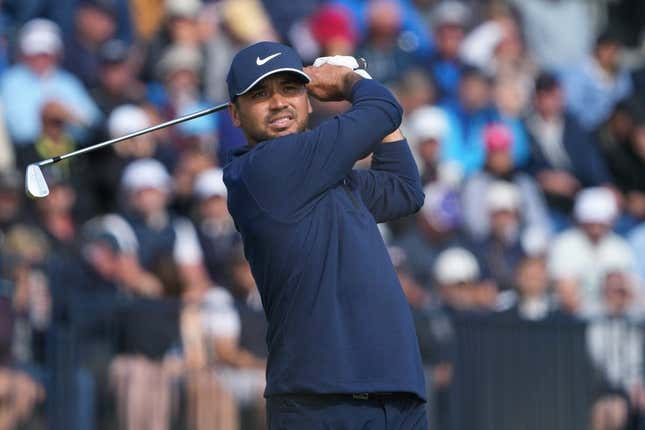 Of the six players 3 under par or better after two rounds of The 151st Open Championship, the only one with a major title is Jason Day.
How running an NFL team is like running a restaurant | Chef Emeril Lagasse
The Australian made six birdies and shot a 4-under 67 on Friday afternoon while most other players were heading in the opposite direction at Royal Liverpool Golf Club in Hoylake, England.
At 3-under 139 through two rounds of The Open, Day is seven strokes behind leader Brian Harman. But the 2015 PGA champion knows there is plenty of time for things to change -- and plenty of difficult weather to potentially shake things up.
"From what I understand and what I've been hearing, I think we're going to get some pretty awful weather (Saturday)," Day said. "But just saying earlier that it is The Open Championship, so if we do get some pretty average weather, it'll bring a lot of guys back in or at least give them a chance at shooting up the leaderboard pretty quick on tomorrow's round and then obviously Sunday, as well."
Day, 35, complimented Harman's 10-under 132 in "really difficult conditions" while pointing out the pressure is on Harman, who has two career top-10 finishes at majors, to defend that lead.
"T4 right now is great," Day said. "We've got to slowly keep pushing. I think I've got a number in my head but I'm not going to say it because typically when I say it I'm terribly wrong. I'm just going to kind of keep pushing towards that number."
Day and Jordan Spieth (who is 2 under through two rounds) traded the No. 1 world ranking back and forth in 2015 and 2016 before Day held the mantle for 47 consecutive weeks entering the 2017 season. But he fell off considerably while battling chronic back pain in the years that followed.
Day's victory at the AT&T Byron Nelson this past May ended a five-year winless drought. Now he is in position for his first top-10 at a major since the 2020 PGA Championship.
Day had entered The Open with missed cuts at the past two majors and a T39 at the Masters.
"I'm excited about (the weekend) because I haven't played the majors well this year, and it's been a little bit disappointing," Day said. "Even though I've played great for the most part of the year, I haven't played well in the majors, and it's been a little frustrating for me.
"But I think if I can get one here this week, that will definitely change it."
--Field Level Media