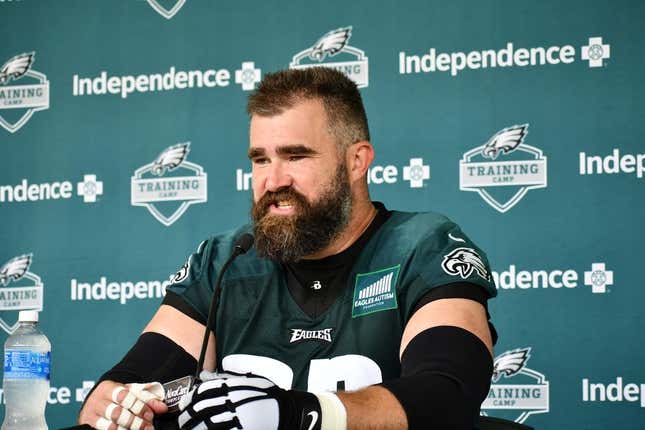 The Philadelphia Eagles' joint practice with the visiting Indianapolis Colts on Tuesday was cut short by a sideline-clearing brawl.
How running an NFL team is like running a restaurant | Chef Emeril Lagasse
Veteran Eagles center Jason Kelce later owned up to blindsiding Colts linebacker Zaire Franklin at the end of a play. The ensuing melee between the two clubs led to an early end to the practice, the final one of training camp before they play a preseason finale Thursday.
Reports from the scene said that Franklin delivered two big hits on Eagles running back Kenneth Gainwell. After the second, Kelce laid a hit on an unsuspecting Franklin.
Kelce called his actions a "cheap shot" and said he felt ashamed he let his frustration get the better of him.
"That certainly doesn't belong out there on the field and just a little bit ashamed that it got to that level and that I did what I did," Kelce said, "so certainly not happy about that, and I think very highly of the guys that were out there."
Kelce added that he did not meet with Franklin to clear the air after practice because tensions between the Eagles and Colts may have still been too high.
"Forty-four, Zaire (Franklin), I think he's a tremendous player," Kelce said. "I think a lot of all their guys up front and they brought a lot of intensity to the day, which made the practice intense. And, you know, I think I didn't handle things properly there at the end."
Franklin, a starting linebacker entering his sixth year in the NFL, is a Philadelphia native and told reporters he grew up watching Kelce on the Eagles.
"Growing up in Philly, watching him for a long time — lot of respect for him," Franklin said. "Talked to him a little bit after we played them last year. I thought the OGs would at least look me in the eye before (hitting me), but it's all good. I might get a chance to look him in the eye Thursday, so we're going to be OK."
Gainwell, for his part, said Kelce was merely protecting his teammates.
"That's just Kelce being Kelce," Gainwell said. "That's just Kelce being a professional and taking players' backs."
—Field Level Media