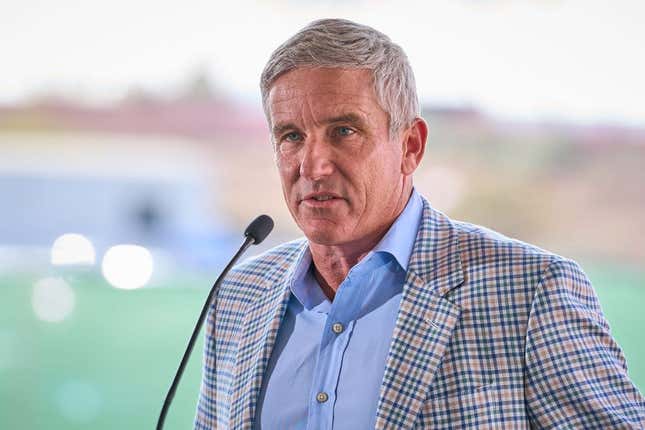 PGA Tour commissioner Jay Monahan said Wednesday that his monthlong medical leave was forced by anxiety that cascaded into "physical and mental health issues."
How running an NFL team is like running a restaurant | Chef Emeril Lagasse
He added that his return as commissioner was not a "certainty." However, he returned to work on July 17.
Monahan made the comments to reporters in Memphis, Tenn., site of this week's FedEx St. Jude Championship, the first stop of the PGA Tour's playoff season.
The Tour announced that Monahan was taking medical leave on June 14, eight days after a framework agreement to merge with LIV Golf was announced. Tour president Tyler Dennis and chief operating officer Ron Price ran the day-to-day operations of the league in Monahan's absence.
"I was dealing with anxiety, which created physical and mental health issues and challenges for me," Monahan told reporters. "And I realized that I needed to step away and to deal with that and understand how to develop the skills to deal with that going forward."
Monahan, 53, said the medical care helped him to avoid a "dangerous medical situation."
"I think everyone knows my nature and my nature is to always be one to run into a fight or a conflict, not run away from it," Monahan said. "Because I had world-class medical care, I fully committed to the process. I was not going to come back until I was told by doctors and medical experts and my wife and my girls that I was fully supported in coming back. And that was not something that was a certainty when I stepped away."
Monahan held an informational meeting with players Tuesday that was attended by just 25 of the 70 players who qualified for the playoffs. He acknowledged Wednesday that the ham-handed announcement of the merger was "ineffective," leading to "a lot of misinformation."
He said now that he wishes he had informed the players before the public announcement.
"I think anytime you have misinformation that can lead to mistrust, and that's my responsibility. It's nobody else's responsibility — that's me and me alone," Monahan said. "At the same time, I apologize for putting players on their back foot, but ultimately the move that we made is the right move for the PGA Tour. I firmly believe that."
—Field Level Media