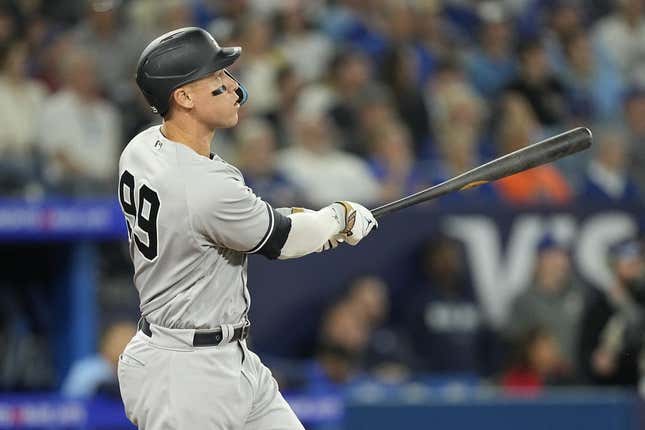 Thanks to three homers from Aaron Judge, the visiting New York Yankees have won the first two games of a four-game series against the Toronto Blue Jays
Air Jordans are more American than McDonald's French fries | Deon Cole's Ultimate Sports Fantasy
The set will resume Wednesday night with Yankees right-hander Gerrit Cole (5-0, 2.22 ERA) due to oppose Blue Jays right-hander Chris Bassitt (5-2, 3.49)
Cole is 6-2 with a 3.48 ERA in 13 career starts against Toronto. He faced the Blue Jays on April 22 in New York and fired 5 2/3 scoreless innings
Bassitt has opposed the Yankees just once, getting a no-decision for the Oakland A's on June 19, 2021, after allowing two runs in six innings
Judge hit two home runs in New York's 7-4 victory over the Jays on Monday night. He hit a tie-breaking, two-run shot to center field in the eighth inning on Tuesday, and the Yankees went on to win 6-3
Tuesday's game was difficult for both teams.
Blue Jays first baseman Vladimir Guerrero Jr. (right-knee discomfort) left in the ninth inning and was due to undergo an MRI exam
The Yankees' bullpen again was called upon to absorb major innings when starter Domingo German, who was perfect through three innings, was ejected following an inspection for foreign substances. He could be suspended for 10 days
Ian Hamilton, who replaced German, exited during the fourth inning due to groin tightness.
The game was played against the backdrop of suggestions that the Yankees had been stealing signs before Judge hit his second home run in the eighth inning on Monday
TV cameras caught Judge taking a couple of sideways glimpses during his at-bat. He said he had been trying to tell his teammates to settle down as they continued to chirp at the umpires following manager Aaron Boone's ejection. Boone had argued balls and strikes during Judge's at-bat.
The Blue Jays suspected that Judge might have been looking to the dugout or to first-base coach Travis Chapman for a tip on the homer pitch, a slider down the middle
"We're here to play baseball," Judge said after the Tuesday game. "We're focused on one thin,g and that's between the lines and what we have got to do to win those nine innings and win the game every single night. When you got all 26 guys, all nine guys in the lineup, focused on that one thing, any other distraction or noise outside of that doesn't bother us."
Major League Baseball found no indication of a rules violation on Monday night.
During the third inning, the Blue Jays seemed to object to Yankees third-base coach Luis Rojas standing outside the coaching box. Toronto manager John Schneider said pitching coach pitching coach Pete Walker was yelling at Rojas "more playfully than anything, saying, 'I'm watching you.'
Before the Tuesday game, Schneider said: "What's fair is fair. And if our guys are giving stuff away, we have to be better at that. If things are being picked up from people that aren't in places they should be, that's where I think the line should be drawn.
"Every team has their guard up on that. It's easy to look at a runner at second when you're hitting, tough to look into the dugout. Probably a little bit easier to look at a coach. I think that there's boxes on the field for a reason. When it's a glaring 30 feet where you're not in that spot, you kind of put two and two together a little bit."
--Field Level Media