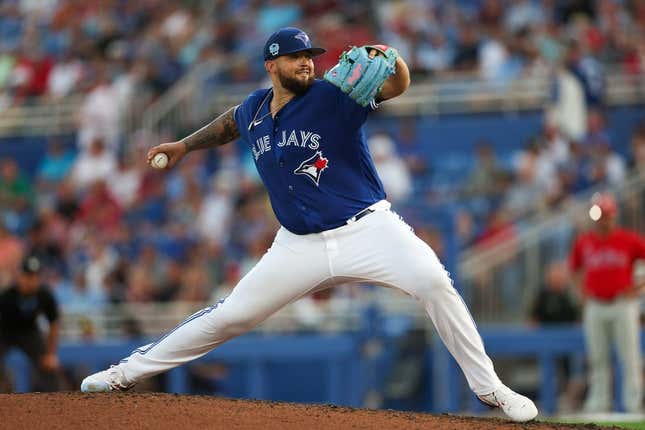 The Toronto Blue Jays began the season by being extremely generous from a pitching standpoint before getting downright stingy in their most recent outing
Are the Oakland A's a failed state? | Agree to Disagree
Alek Manoah will look to atone for a tough season-opening performance when he takes the mound on Wednesday night against fellow right-hander Zack Greinke and the host Kansas City Royals
Manoah (0-0, 13.50 ERA) surrendered five runs on nine hits -- including two homers -- in 3 1/3 innings of a no-decision in his team's loss to the St. Louis Cardinals on Opening Day. The 25-year-old told the Toronto Sun that the Blue Jays' rotation needs to get more aggressive, and he was quick to point the finger at himself
"One thing I've got to remember is I'm really good myself," Manoah said. "Sometimes you might go in there and face a good lineup, and the act of giving them a lot of credit makes them even better.
"Sometimes, you try to overthink pitches just because it's a really good lineup. Looking back, when I'm attacking, I'm hard to hit. That's always when I'm going to be at my best. I just need to do a little more of that."
Manoah has done that in each of his three career outings vs. the Royals. He is 3-0 with a 0.45 ERA while striking out 14 in 20 innings against them
Teammate Yusei Kikuchi did well in his own right on Tuesday, overcoming an early homer to toss five strong innings in a 4-1 victory over the Royals. The win snapped a three-game skid for Toronto and evened the current four-game series at one victory apiece
"Everybody knows that he didn't pitch as well as he would have liked to last year and he was very hard on himself," Toronto's Matt Chapman said. "For him to be able to come out and have a strong first outing, and after we'd dropped three games in a row, to come out here and get us in the win column, it's really good to see."
Chapman continued his torrid start to the season by recording an RBI single among his three hits on Tuesday. He is 11-for-19 with three RBIs in five games.
Keeping Chapman in check on Wednesday will be the responsibility of Greinke (0-1, 3.38), who was saddled with a hard-luck loss in his first outing of the season. The former Cy Young Award winner allowed just two runs on six hits in 5 1/3 innings of a 2-0 setback to the Minnesota Twins last Thursday.
Greinke, 39, has a 5-5 record with a 4.08 ERA in 15 career games (13 starts) vs. Toronto.
Kansas City's Matt Duffy is off to a fast start despite starting just two of his team's five games this season. He had three hits on Tuesday to improve to 5-for-7 on the young season.
"I'm definitely going to hit .700 the rest of the year," Duffy deadpanned, per the Wichita Eagle. "Yeah, it's good to feel good. It's good to start well, a little exhale, you know. But as we said the other day with us struggling the first series, it's a long season. You just try to come to the park each day, prepare yourself the same way, make adjustments if you need them. But it's good to feel good."
--Field Level Media