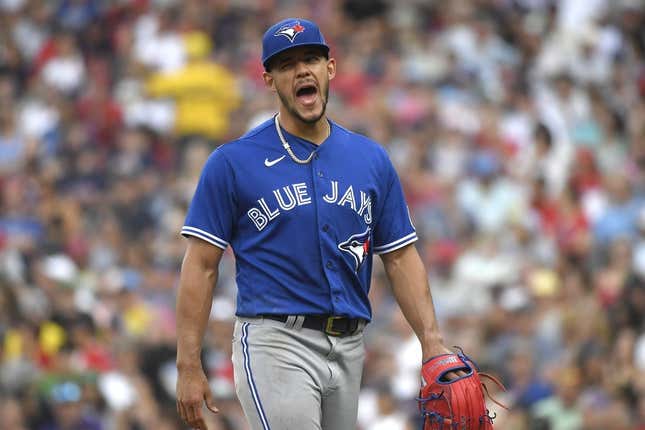 With left-hander Drew Smyly moving to the bullpen, right-hander Javier Assad is scheduled to start for the visiting Chicago Cubs on Friday night against the Toronto Blue Jays in the opener of a three-game series
How running an NFL team is like running a restaurant | Chef Emeril Lagasse
Smyly will avoid a Blue Jays lineup that is heavy with right-handed hitters
The Cubs will review the rotation next week when right-hander Marcus Stroman (hip) is eligible to leave the injured list
"(Smyly) wants to be a starter, he thinks of himself as a starter, but he's willing to help the team," Cubs manager David Ross said. "He wants to win just like everybody else, and he gets it
"We're trying to take the best matchups to give ourselves a chance to win, is what we're trying to do -- maximize every number we can and matchup we possibly can to give us any kind of slight edge going into each series, and this is just one of those things.
The Cubs had Thursday off and have two scheduled days off next week, and that allowed them to adjust their rotation. Smyly's move to the bullpen will be, according to Ross, "for probably a short amount of time.
Assad (1-2, 3.35 ERA) has one career start against the Blue Jays, pitching five scoreless innings in a no-decision last Aug. 29 at Toronto
Right-hander Jose Berrios (9-7, 3.38) is the scheduled starter for the Blue Jays on Friday. Over three career starts against the Cubs, he is 1-1 with a 5.63 ERA
The Cubs are coming off a 4-3 loss to the host New York Mets on Wednesday, a game in which they left the bases loaded in the ninth inning. It was just the sixth loss in 22 games for the Cubs
Toronto is coming off a 5-2 trip after spitting four games with the Cleveland Guardians
The Blue Jays continued to have trouble taking advantage of scoring chances. In their two-run seventh inning on Thursday, they could not push across another run despite having the bases loaded with one out in a 4-3 loss
It was the second time in the game that the Blue Jays left the bases loaded. They stranded 10 runners in the game
"We've got to just start getting that sac fly, that hit, whatever it may be," Blue Jays manager John Schneider said. "But, sooner or later, those hits are going to come when we do get guys on. ... Sooner or later, hopefully this starts evening out.
Schneider and right fielder George Springer were ejected in the seventh inning after Springer was called out on strikes
"(Springer) was stating his case that he thought the pitch was low and he was on his way back to the dugout," Schneider said. "So at that point, usually (an umpire will) just let a star player go back to the dugout. What (Springer) said, I don't think warranted an ejection. I know what I said did.
Blue Jays catcher Danny Jansen left the game after he was hit on the hand by a pitch in the sixth inning. X-rays were negative, and the injury was listed as a contusion
--Field Level Medi