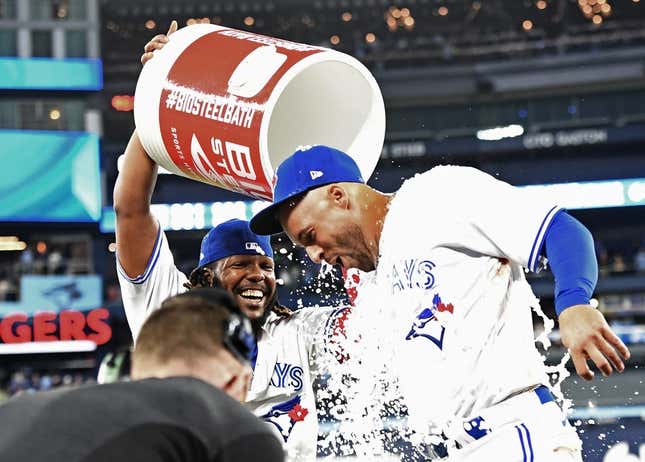 Right-hander Chris Bassitt will try to help the Toronto Blue Jays gain their first series sweep of the season Thursday night when he faces the visiting Detroit Tigers
Bass' ERA stinks, but not compared to who he is off the mound | Worst of the Week Countdown
The Blue Jays have won the first two games of the three-game set after pulling out a 4-3 victory in 10 innings on Wednesday
The Blue Jays needed two ninth-inning runs to tie the game before George Springer grounded a single to drive in the winning run
"It's cool to hit a homer, but to manufacture runs in a lot of other ways -- walks, hits, a bunt tonight -- is huge for us," Springer said. "This is a hard league. The more you're able to do, the better."
Bassitt (1-1, 10.61 ERA) is 4-2 with a 3.30 ERA in seven career games against Detroit.
In winning the first two games against the Tigers, the Blue Jays have also won their first two home games of the season. They are trying to atone for an embarrassing two-game sweep by the visiting Seattle Mariners in their wild-card series last season. The Blue Jays led 8-1 in the second game before losing 10-9
"We don't want to feel that way again," Springer said before the home opener on Tuesday. "Obviously, to know that we didn't get the job done and didn't get to where we had hoped to go -- we didn't get to where many people expected us to go -- that's OK. As hard as it was, I think it's a good stepping stone. This team has learned to succeed together, but (it) has also learned to fail and fail in a hard way."
Kevin Gausman, the starting pitcher in the season-ending game last year, allowed three runs and five hits while striking out 11 in eight innings on Wednesday.
"It's such a good group of baseball guys, if that makes sense," Gausman said. "It's just a lot of guys who really enjoy getting dirty and being in those big situations. They kind of feed off of that."
Toronto has won three straight series after losing two of three games to the St. Louis Cardinals to open the season.
"It seems like (Springer) is right in the middle of it always," Gausman said. "That guy is about as clutch as anybody."
The Tigers have lost six straight. They took a 3-1 lead in the seventh Wednesday on Kerry Carpenter's two-run home run
"I feel like we have to try to get 27 outs, and we have to get there a lot of different ways," Tigers manager A.J. Hinch said. "Obviously, when you have to get nine (outs), you have got to go through that order a full time again. We just didn't get it done.
Nick Maton has hit a home run in each of the first two games of the series for Detroit.
The Tigers placed right-hander Matt Manning (right-foot fracture) on the 15-day injured list on Wednesday and recalled infielder Tyler Nevin from Triple-A Toledo
"We'll get him in there in the next couple of games and see if he can continue what he's done in Triple-A," Hinch said.
Manning was injured when a comebacker hit his foot. He was able to cover first on the play to get the final out of the sixth inning Tuesday.
"I didn't think it was that bad," Manning said. "(I) thought it was, like, normal, just bruised my foot a little bit."
--Field Level Media