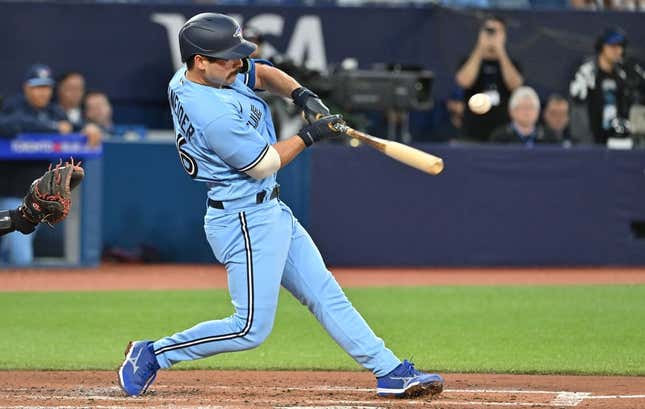 The Toronto Blue Jays have a different look on the left side of the infield for their three-game series with the visiting Washington Nationals that continues Tuesday night.
How running an NFL team is like running a restaurant | Chef Emeril Lagasse
Before winning the series opener 6-3 on Monday, the Blue Jays put third baseman Matt Chapman on the 10-day injured list due to a sprained right middle finger.
Shortstop Bo Bichette also did not play and was listed as day-to-day while the team waited for test results on his ailing right quadriceps.
It meant the Blue Jays opened the series with hot-hitting Davis Schneider at third base, while Ernie Clement, recalled from Triple-A Buffalo on Monday, played shortstop.
Schneider had an RBI single and a walk, and Clement contributed two singles to the victory.
"It's going to be grimy, it's going to be dirty, it's going to be hard," Blue Jays manager John Schneider said of the revised lineup. "It's going to be different than what we're used to, basically running out the same guys for five months.
"You have to look at it as an opportunity for guys to step up. You get creative when you have to, and you've still got a really good pitching staff that keeps you where you need to be, too."
Davis Schneider, who batted fourth on Monday, has five home runs and 12 RBIs in his first 12 major league games while playing previously at second base and in left field. Chapman, however, is one of the top defensive third basemen in the majors.
"Whenever you're talking about replacing Matt Chapman, it's a big hole to fill," John Schneider said. "But (Davis Schneider) is comfortable (at third). That's one of the things we try to do with guys like him in the minors, is just keep moving them around different spots, in case something like this does occur and you want to keep his bat in the lineup.
"You always feel good when the ball goes to Chappy, and you feel good when it goes to Davis, hopefully. I think it's an opportunity for him to continue to work at that spot."
The Blue Jays are scheduled to start right-hander Jose Berrios (9-9, 3.55 ERA) on Tuesday. In two career starts against Washington, he is 1-0 with a 1.50 ERA.
Washington is scheduled to start left-hander MacKenzie Gore (6-10, 4.38), who has never faced Toronto. He is winless with a 4.44 ERA in his past five starts.
The Nationals also made moves on Monday, selecting the contract of switch-hitting catcher Drew Millas from Triple-A Rochester. He grounded out as a pinch hitter Monday night. Washington transferred right-hander Carl Edwards Jr. to the 60-day IL and optioned outfielder Blake Rutherford to Rochester.
In the Nationals' second loss in a row, Washington got three hits and three stolen bases from CJ Abrams plus two hits and three RBIs from Joey Meneses on Monday. Starter Josiah Gray lasted only two innings, allowing four runs, four hits and four walks. The short outing could have an impact on the bullpen for the rest of the series.
"I just feel for those (relievers)," Gray said. "I obviously want to continue to throw the ball out there and keep the team somewhat in the game, but just didn't have it today. Scattering command with all pitches and just wasn't my day."
Nationals manager Dave Martinez said, "He was just flying open really bad, couldn't stay behind the ball, pushing a lot of balls. His misses were way off. We'll talk to him. We'll look at some film, try to get him straightened out before his next start."
—Field Level Media