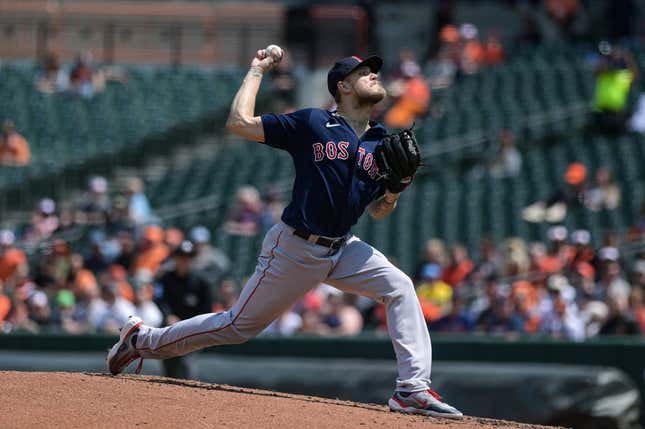 The Boston Red Sox were more than happy to turn the page from a dreadful season series against the Toronto Blue Jays in 2022
Is Texas or Florida State a bigger national title contender? | Agree to Disagree
With the calendar turning to May, the two American League East rivals have renewed acquaintances for the first time this season. The second of a four-game series in Boston is set for Tuesday night.
Boston is coming off a night to remember in Monday's series opener. Alex Verdugo's ninth-inning home run capped a 6-5 win, which was the team's fourth walk-off triumph of the young season.
Toronto had been on a nine-game win streak in the head-to-head series.
The Red Sox put together a 13-hit night on Monday and have scored 21 runs over their last three games. Two of the team's young stars in Jarren Duran and Enmanuel Valdez also hit homers in the sixth inning
Verdugo wasted little time impacting the game, leading off the first inning with a double long before his sixth walk-off RBI as a Red Sox
"From pitch one, the first at-bat of the game kind of set the tempo for the game," Red Sox manager Alex Cora said. "He's in a good spot.
It was the first homer allowed by Toronto closer Jordan Romano in 36 appearances.
"I live for that moment," said Verdugo, who also had three RBIs Sunday against Cleveland. "Everybody kind of gets in there, and some people think about the negative results of it. ... I'm blessed with that opportunity to do it."
Boston pitcher Tanner Houck (3-1, 4.50) has not allowed more than three earned runs in any of his 25 career starts, a streak that continued in his five-inning outing last Wednesday at Baltimore.
The right-hander struck out a season-high seven in an 11-5 victory over the Minnesota Twins on April 20.
He has completed at least five frames in four of his first five starts this season and has a 2.63 ERA in 13 2/3 career innings against the Blue Jays
"Overall, it was five good innings, threw a lot of strikes, quality stuff," Cora said. "Some days are going to be like that."
Blue Jays shortstop Bo Bichette went 5-for-5 with a three-run homer -- his team-leading seventh of the season and second in as many games -- in the series opener
Two of Bichette's three five-hit games have come this season.
Blue Jays manager John Schneider knows his talented club will be ready to respond from its second walk-off loss of the campaign
"I think guys like hitting here," Schneider said prior to Monday's game. "It's a good environment to play. And it's a division team. You look forward to series like this."
All five A.L. East teams, including the Red Sox (16-14) and Blue Jays (18-11) are .500 or above
Bichette led the lineup without center fielder George Springer, who was a late scratch from Monday's game due to a viral illness.
Yusei Kikuchi (4-0, 3.00) will start for Toronto. He has certainly pitched better than a No. 5 starter for the Blue Jays, allowing just two earned runs over his last three appearances, which covered 17 2/3 innings
Kikuchi's best start of the young season was his most recent. He struck out eight in 5 2/3 scoreless innings Wednesday against the Chicago White Sox, allowing just four singles and one walk.
The 31-year-old lefty, who is already within two wins of his MLB career high, has allowed more than one earned run only once this season after falling out of Toronto's rotation altogether in 2022.
"I'm going onto the mound with confidence and enjoying taking on hitters," Kikuchi said
Kikuchi is 0-1 with a 4.60 ERA in 15 2/3 career innings against Boston.
--Field Level Media