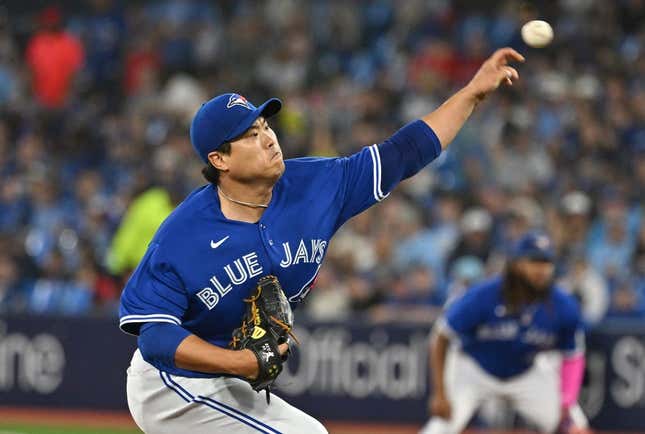 With the calendar flipping to September, the playoff chase has heated up. With an expanded postseason field, more teams are in the hunt in the final month of the season.
How running an NFL team is like running a restaurant | Chef Emeril Lagasse
The Toronto Blue Jays are one of the contenders but need a strong finish to grab one of the American League wild-card berths. Their final push starts with a three-game series at the Colorado Rockies beginning Friday night.
Toronto will send lefty Hyun Jin Ryu (3-1, 2.25 ERA) against Colorado's Chris Flexen (1-6, 6.94) in the opener.
The Blue Jays enter the weekend 2 1/2 games behind Texas for the third AL wild-card slot and have a chance to improve their playoff odds against a struggling team. They will have to do without All-Star shortstop Bo Bichette, who was placed on the injured list on Tuesday with a strained right quadriceps.
Bichette's injury deprives Rockies fans of watching the son of one of their most popular players, Dante Bichette, who was a member of Colorado's expansion team in 1993. But Toronto still brings plenty of firepower.
The Blue Jays know they can't afford to slip, even without one of their best players, to stay in the hunt.
"I would say every game is a must-win from here on out," said starter Chris Bassitt, who beat Washington with eight scoreless innings on Wednesday. "We know there's a lot of pressure on us. There's a lot of pressure on a lot of teams. But overall, it's more so just getting the job done. You can say it's pressure, but at the same time, this is why we signed up to play for this team. This is why we do it. It's exciting."
Ryu will try to build on Bassitt's start against a team he has plenty of experience against from his time with the Los Angeles Dodgers. Ryu is 5-7 with a 4.85 ERA in 15 career starts against Colorado.
The Rockies have lost nine of their last 10 and are on track for their first 100-loss season, which looks inevitable considering their schedule. They went through a juggernaut of Tampa Bay, Baltimore and Atlanta, and all but three games from here on are against teams with winning records. Three contests at San Diego are the exception.
Colorado's roster is stocked with young players, but there are some veterans in the mix. Flexen is one of them and has provided a valuable stopgap in the rotation since he was claimed off waivers on July 13. He will make his seventh start with the Rockies and fifth career appearance against Toronto.
He is 0-1 with a 3.93 ERA against the Blue Jays, which includes three starts.
The Rockies' youngsters may be struggling at the plate but they have, for the most part, played good defense. Rookie Brenton Doyle is hitting just .186 but has 17 steals and eight outfield assists playing in spacious center field at Coors Field.
"That's huge, especially with me right now not swinging the bat the best," Doyle said of his defense. "If I can go in the outfield and save some runs — anything to help the team."
—Field Level Media