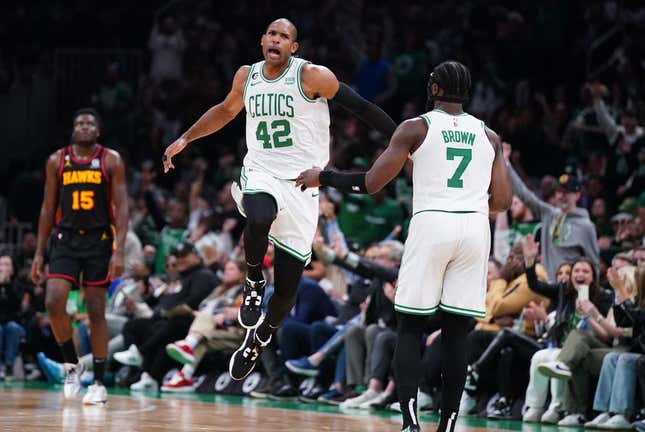 Jayson Tatum led five scorers in double figures with 29 points as the Boston Celtics seized a 2-0 lead in their Eastern Conference first-round playoff series with Tuesday night's 119-106 win over the visiting Atlanta Hawks
'Soccer fandom is full of gatekeepers' says Ted Lasso actor Brendan Hunt
Tatum added 10 rebounds and six assists to lead the Boston offense. Derrick White added 26 points, including 14 in the fourth quarter. Jaylen Brown (18 points), Marcus Smart (14) and Malcolm Brogdon (13) also scored in double figures.
After Atlanta took an 11-point lead thanks to De'Andre Hunter's 3-pointer with 5:42 left in the first quarter, Boston outscored the Hawks 50-27 for the remainder of the first half and, for the most part, cruised from there
Dejounte Murray led Atlanta with 29 points on seven 3-pointers. Trae Young scored 24 points, while Hunter supplied 18 points and 12 boards. The Hawks were just 16 of 48 from 3-point range
The Celtics extended a 61-49 halftime lead, making it 72-55 with an Al Horford layup at 8:58 of the third quarter. Nearly three minutes later, Boston went up by 20
Murray scored 13 points in the third to pull Atlanta within 90-81 by the end of the period.
In the fourth, White continued his strong series with a floater, a 3-pointer and a layup, the last bringing Boston over the century mark with 7:29 left.
A Smart triple and Tatum dunk with 2:16 remaining capped a 15-2 run that put an exclamation point on the win.
Atlanta matched its five 3-pointers from Saturday in the first quarter alone, grabbing a 15-7 lead with the help of three treys in the game's first three minutes.
Boston led 28-25 at the end of the first quarter after a late 17-3 run. Brogdon's half-court buzzer-beater gave Boston the three-point edge heading into the second.
A Bogdan Bogdanovic runner brought the visitors within four with 6:21 left before halftime, but the Celtics responded with a 10-2 spurt that Tatum capped with a layup. A Brogdon steal and Tatum layup made it a 15-point game in the final minute, but Murray pulled up and hit a 3-pointer to end the half
--Field Level Media