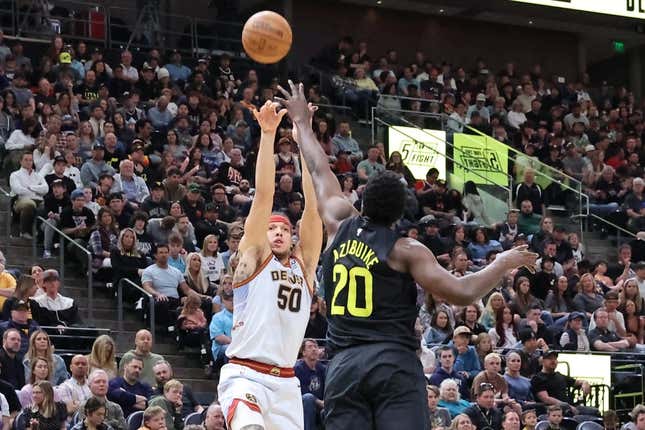 Rookie Ochai Agbaji scored a career-high 28 points and the Utah Jazz concluded their home slate with a 118-114 win over the Denver Nuggets on Saturday afternoon in Salt Lake City
Bass' ERA stinks, but not compared to who he is off the mound | Worst of the Week Countdown
Kris Dunn finished with 19 points, 14 assists and eight rebounds, Luka Samanic added 23 points and eight rebounds and Simone Fontecchio contributed 15 points to help the Jazz (37-44) snap a four-game losing streak
The Jazz, who blew a 19-point lead and then overcame a nine-point deficit in the fourth quarter, played without seven regulars: Jordan Clarkson, Lauri Markkanen, Walker Kessler, Kelly Olynyk, Collin Sexton, Talen Horton-Tucker and Rudy Gay
Kentavious Caldwell-Pope scored 21 and Jamal Murray netted 20 points in the loss for Denver (52-29), which had already clinched the No. 1 playoff seed for the Western Conference.
Nikola Jokic had 10 rebounds, 10 assists and six points in 27 minutes, while Aaron Gordon and Michael Porter Jr. each scored 15.
Utah trailed 102-93 when it rallied to make it a one-point game with under five minutes remaining.
The Jazz regained the lead at 110-109 after Toscano-Anderson hit a pair of free throws at the 2:42 mark
Agbaji followed with two buckets, then clinched the win with two free throws with 11 seconds left as Utah won for just the second time in 10 games. The Jazz outscored the Nuggets 25-12 in the final 8 1/2 minutes
Agbaji scored 11 quick points to help the Jazz jump out to a 19-4 lead. Utah took its biggest lead at 38-19 after Agbaji and Micah Potter (10 points, 10 rebounds) drained consecutive 3s
Reggie Jackson and Murray teamed for 11 straight points for the Nuggets. The Jazz rebuilt their lead to 13 before Denver stormed back with a 12-0 run late in the first half
Samanic beat the horn for a layup to give the Jazz a 58-55 halftime lead
The Nuggets hit two 3s to open the second half and take their first lead at 61-58. Denver scored 40 points in the third quarter on its way to a 95-89 edge heading into the fourth quarter
--Field Level Media