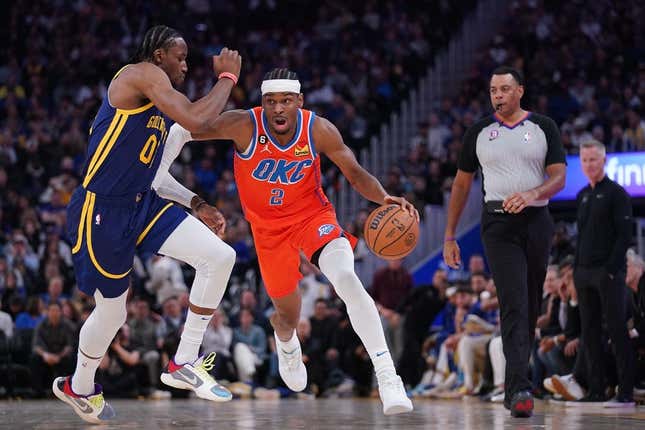 Thursday's game between the Utah Jazz and Oklahoma City Thunder in Salt Lake City isn't a playoff game, but it might feel like one to these two young teams
Bass' ERA stinks, but not compared to who he is off the mound | Worst of the Week Countdown
The visiting Thunder (38-42) and reeling Jazz (36-43) are both still in contention for a chance to compete in the play-in tournament. That despite the fact both come into this contest on three-game losing streaks
Oklahoma City has the edge and can clinch a spot in the postseason with wins in its final games at Utah and against Memphis on Sunday.
Utah, which has lost seven of eight, has an uphill climb with three games remaining. Not only do the Jazz have to catch up with Oklahoma City, but Dallas is also just ahead of them entering Wednesday's play and owns the head-to-head tiebreaker
Regardless, both teams are satisfied to be in this position when looking at the big picture.
"It's awesome," said Thunder coach Mark Daigneault, when asked about that following his team's 136-125 road loss at Golden State on Tuesday. "You look out on the court, and you've got rookie players, you've got second- and third-year guys. Everybody at this point is playing the most minutes they've ever played in an NBA season, for the most part.
Similar to the Jazz, the Thunder continue to be competitive even in losses. They led for most of the game against the Warriors and played well in recent losses to Phoenix and Indiana
Shai Gilgeous-Alexander continues to light it up, scoring 32 points against the Warriors, with rookie guard Jalen Williams chipping in 19 points.
"Having to grind through in games that have weight, not only for us but our opponent. Almost every opponent we've played the last month has had something to play for," Daigneault added. "These are games where we're getting people's best shot. That's great for our growth. I love it for our guys and I'm really impressed with how our guys are firing and grinding that out. I'm looking forward to the last two games."
The Jazz seemed dead in the water at home against LeBron James & Co. late in Tuesday's game. Despite trailing the Lakers by 10 points with 1:43 remaining, the Jazz stormed back to force overtime before falling 135-133
Keep in mind, Utah didn't have three injured starters -- Lauri Markkanen (hand), Jordan Clarkson (hand) and Walker Kessler (concussion) -- and Collin Sexton (hamstring) was only allowed to play 15-plus minutes as he returned to action. Sexton is listed as out for Thursday's game.
"They just continue to compete. They pull for each other," Jazz coach Will Hardy said. "I thought the energy of the crowd was great.
With their next-man-up mentality, the Jazz relied on 23 points apiece from Kelly Olynyk (seven rebounds, seven assists) and Talen Horton-Tucker (seven assists) along with 22 points from Ochai Agbaji. In all, seven Jazz players reached double figures and the team had 29 assists even without their top players
"We're not always the pretty team," Hardy said, "but I think the energy and the way our team competes every night is infectious. ..."
"I'm with these guys every day. I see how they interact with each other. I see how they prepare. They're preparing every night to win. They're not just coming out there to play."
The Thunder have won two of three meetings against Utah this season
--Field Level Media