It's been five years since Jeremy Lin stumbled out of the D-League and set the basketball world on fire with a few weeks worth of heroics for a moribund New York Knicks team. Rather than fade into obscurity or establish himself as a full-blown star, Lin has just sort of become a normal NBA player. He runs point for the Brooklyn Nets and does a very solid job at it. Linsanity is not coming back, but Lin's 28 and he has plenty of productive basketball ahead of him.

Part of what drove him to sudden stardom was his status as the greatest-ever Asian-American basketball player, which both made his story resonate and also inspired some moronic tokenizing. Lin went on teammate Randy Foye's podcast today and spoke about his experiences playing for Harvard, trying to make the NBA, and being taunted with racial slurs. He said that crowds in college were much worse than the NBA. As he said, "It's all students and they're all drunk."
The worst was at Cornell, when I was being called a "chink." That's when it happened.

[...]

I ended up playing terrible and getting a couple of charges and doing real out-of-character stuff ... I didn't say anything because when that stuff happens, I kind of just, I go and bottle up where I go into turtle mode and don't say anything and just internalize everything.
Lin also said Yale fans mocked him and joked that he wouldn't be able to see the scoreboard "with those eyes." During a game in Vermont, he said that the opposing team's coach once complained about him to an official and called him "that Oriental." Lin did note that while he still hears denigrating remarks in the NBA, fans are much more well behaved. When Linsanity was at its peak, Lin says he never fully appreciated the unique position he was in because the pressure was so intense. Now that he's settled into NBA life, he's honored:
And now when I say badge of honor, it's like, this is cool, I rep for all the Asians, I rep for all the Harvard dudes, I rep for the Cali guys, I rep for the underdogs. I take pride in it. It is not a burden to me anymore. I am not scared anymore. I appreciate it and want to help and challenge the world, stereotypes and everything. Back then, I didn't understand it; and it came so fast, I didn't really know what was going on.
G/O Media may get a commission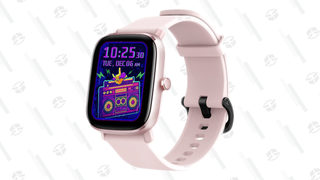 20% Off
Amazfit GTS 2 Mini Smart Watch
Get fit
Has built-in Alexa so you can ask questions and carry your smart assistant around with you; it has a battery that can last up to 14 days, has over 70 different sport modes, is 5ATM waterproof, and tracks stats like your heart rate, calories burned, sleep, and more.