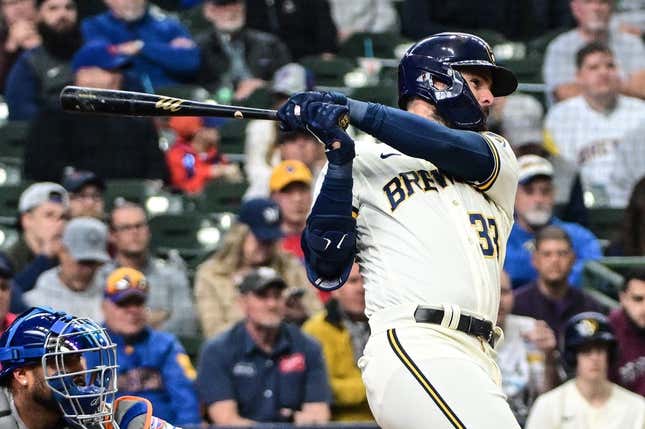 Jesse Winker's lone season in Seattle didn't go well.
The outfielder tried to play through knee and neck injuries last year, which contributed to him posting career lows in batting average (.219) and OPS (.688) and being limited on defense.
Bass' ERA stinks, but not compared to who he is off the mound | Worst of the Week Countdown
Winker was left off the Mariners' playoff roster due to a neck strain, and he was traded to the Milwaukee Brewers in the offseason along with infielder Abraham Toro in exchange for second baseman Kolten Wong
Winker returned to Seattle on Monday as the Brewers opened a three-game interleague series with a 7-3 win, though he sat out with right oblique tightness. The set continues Tuesday night
Before batting practice on Monday, Winker took swings in the cage, and he could return Tuesday to face Mariners right-hander Logan Gilbert (1-1, 2.70 ERA)
Winker wasn't concerned about returning to Seattle, where his reputation on and off the field took a hit.
"I would say I'm ready to go help the Brewers win a series. The fact that it's there doesn't really matter to me," Winker said. "How everything went down, I take responsibility for my part of it, obviously. My behavior and everything. But there's no hesitation
"This is part of the job. You're going to go play different places, experience places, and all in all, my experience there was fine. I learned a lot. I believe in their system and I wish (them) nothing but the best moving forward."
After offseason surgery on his knee and neck, Winker got off to a fast start for the Brewers before missing five games last week with bronchitis. He returned Saturday in San Diego and had a double and two RBIs before sustaining an oblique injury
Winker said he's happy to be in Milwaukee.
"I've had a blast being here. It's been really refreshing and the people here have been amazing," Winker said. "They've treated me so well, so I'm thankful to be a Brewer. ... Sometimes, man, you can't beat comfort. Comfort is worth a lot."
If he returns to action, he would be up against Gilbert, who will be opposing Milwaukee for the first time in his career. Gilbert has made two quality starts in three outings this year. His last time out, he held the host Chicago Cubs to one run on four hits in 6 2/3 innings during a 5-2 win on Wednesday. Gilbert striking out seven and walked one.
Right-hander Colin Rea (0-0, 1.59) is scheduled to start on Tuesday for the Brewers. Rea has made just one previous appearance against Seattle, a 2016 start for the San Diego Padres, when he allowed six runs (five earned) in 5 1/3 innings
The Brewers won the series opener on Monday but got a scare as ace Corbin Burnes left in the sixth inning due to a strained left pectoral muscle
"Just one of those things that it was starting to cramp up and tighten up and it was affecting me mechanically," Burnes said. "The more I threw, the more it was starting to get not necessarily painful but just started to cramp up and started to get tighter and tighter."
The Mariners saw their four-game winning streak end as they committed two errors and went 0-for-3 with runners in scoring position
"We just didn't play a clean game," Seattle manager Scott Servais said. "When you don't play clean, we're just not going to beat too many teams."
--Field Level Media