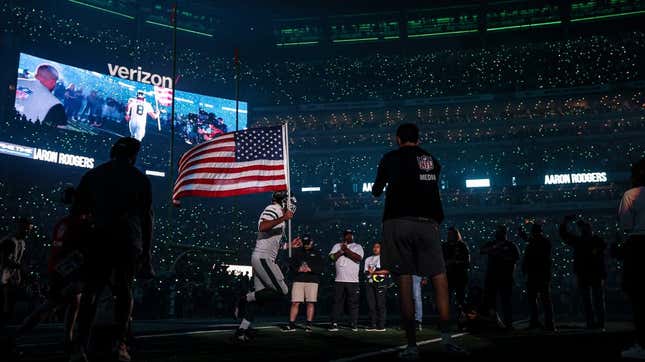 The "Monday Night Football" game between the visiting Buffalo Bills and New York Jets drew more than 22.6 million viewers, the most since ESPN began airing the NFL broadcast in 2006.
How running an NFL team is like running a restaurant | Chef Emeril Lagasse
The game featured the much-anticipated Jets debut of quarterback Aaron Rodgers, who exited after tearing his left Achilles tendon on his fourth snap.
Despite Rodgers' early departure, the Jets beat the Bills 22-16 in overtime on Xavier Gipson's 65-yard punt return for a touchdown. The Jets announced on Tuesday that Rodgers would miss the rest of the season.
The game, which aired on ESPN, ABC, ESPN2, ESPN+, and ESPN Deportes, broke the network's record that was set in 2009, when the Green Bay Packers faced their former quarterback Brett Favre and the Minnesota Vikings. That game drew 21.8 million viewers.
The viewership total for this year's season opener of "Monday Night Football" was up 14 percent from last year's opener (Denver Broncos vs. Seattle Seahawks) that drew a then-record 19.8 million viewers for a Week 1 Monday night contest.
The breakdown for the Monday viewership included 11.7 million watching on ABC, 9.4 million on ESPN and 1.52 million on ESPN2, which aired the "ManningCast" alternate feed featuring Peyton Manning and Eli Manning.
Sports Business Journal noted that the total MNF viewership this week topped the most recent totals for the College Football Playoff final, the men's NCAA Tournament final, the Kentucky Derby, the Oscars and the Grammy Awards.
—Field Level Media